Are you considering using Marley Spoon as your meal delivery service but are not sure if it is the best fit for your needs? If so, you're not alone.
With so many meal delivery options available, it can be overwhelming trying to decide which one is right for you. In this article, I'll cover everything you need to know about Marley Spoon before you order, including how it started, what their meal delivery service involves, the quality of their meals, and more.
By the end of this article, you will have a clear understanding of whether Marley Spoon is a good fit for your needs.
What Is Marley Spoon?
Marley Spoon, also known as Martha & Marley Spoon in the United States, is a popular meal delivery service specializing in classic, home-cooked meals.
But don't let the words "home-cooked" fool you, as these traditional dishes are prepared in a gourmet fashion (as if Martha Stewart arrived in your kitchen and cooked the meals herself). In other words, the meals are high-quality and, from our tests, delicious.
Each meal comes with pre-portioned ingredients and a detailed recipe card, making it easy for you to prepare and cook delicious dinners at home.
Marley Spoon offers a range of meal options for two or four people, allowing you to choose two to six meals per week as part of a subscription service.
You can customize your meal selections and delivery schedule, and have the option to skip a week if needed. A little later on we'll delve into the various plans, pricing, and shipping options offered by Marley Spoon to help you determine if it is the right meal delivery service for you.
How Marley Spoon Started & Got Its Name
Marley Spoon, which was founded in Germany in 2014, was inspired by a memorable backpacking trip taken by founders Fabian Siegel and Till Neatby.
While on a secluded island in Asia, the two were caught in a severe storm and took shelter in a restaurant called "Marley's." There, they enjoyed warm and comforting home-style meals. After returning home, Siegel and Neatby decided to start a business that offered similar high-quality meals, and thus, Marley Spoon was born. The name "Marley" is a nod to the restaurant that provided them with such a memorable experience.
Siegel shares in an interview with EU-Startups what inspired them to start a meal delivery service:
"Our love for food paired with the belief that cooking does not have to be overly complicated or time-consuming is what made us want to launch the business… This concept aligns with the mission we've had since day one: Bring delightful, market-fresh and easy cooking back to the people."
In this interview, he also mentions that the economic and environmental impact is part of the driving force for Marley Spoon, as it reduces food waste, carbon emissions, and more.
How Martha Stewart Became Involved With Marley Spoon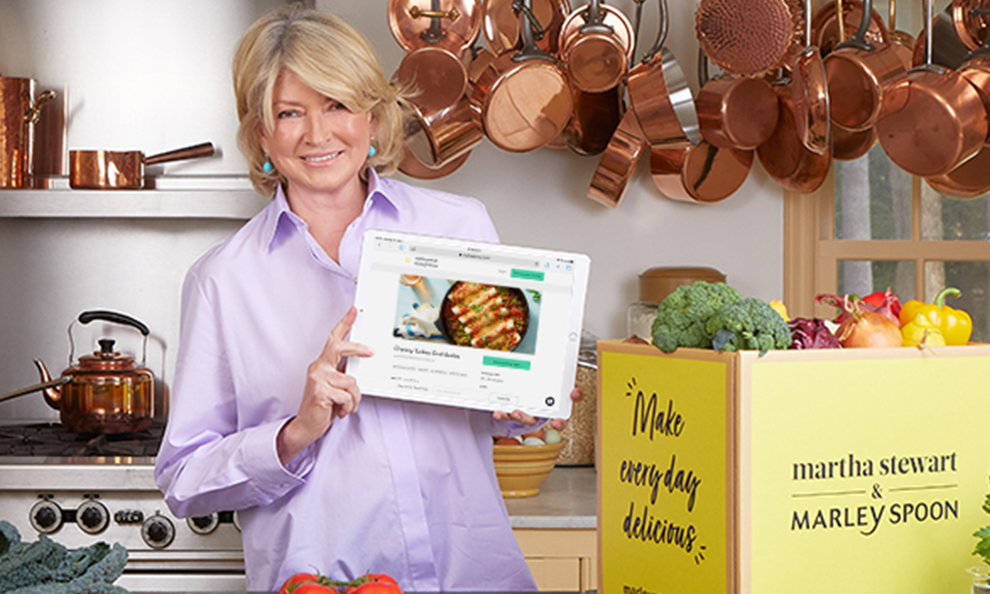 To make a splash in the highly competitive US meal delivery market, Marley Spoon teamed up with renowned cook and lifestyle expert Martha Stewart. As a result, the company rebranded as Martha & Marley Spoon and now features Stewart's recipes and cooking techniques in addition to its own original recipes.
The partnership was a strategic move to differentiate Marley Spoon from rivals such as Blue Apron and HelloFresh and to build trust with customers through Stewart's trusted reputation in the food industry.
This partnership allowed Marley Spoon to offer a range of recipes that featured both their original creations and dishes developed by Stewart, all of which were based on her cooking techniques and expertise.
In an interview with TechCrunch, Marley Spoon co-founder Fabian Siegel emphasized that the partnership with Stewart was not solely about her endorsement, but rather a genuine collaboration where he had the opportunity to learn from her extensive knowledge and passion for cooking.
How Marley Spoon Comes Up With Their Recipes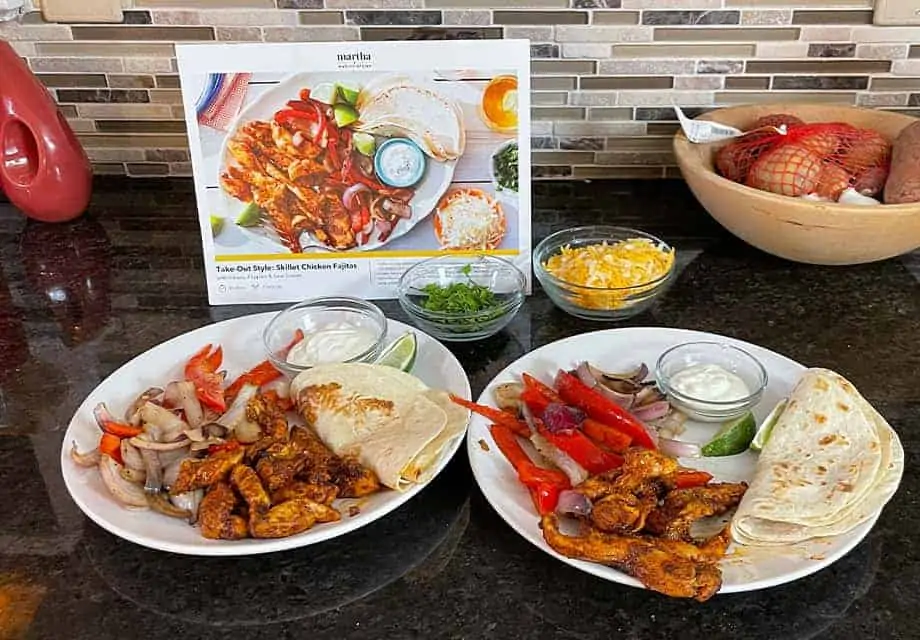 Marley Spoon's team of chefs and dieticians work to curate and test a wide variety of recipes, with a focus on including options for a range of appetites, taste preferences, and dietary needs.
With an impressive 100+ recipes available on their weekly menus, Marley Spoon offers some of the most meals out of any meal kit on the market. Their staff dietician also ensures that each recipe meets specific nutritional guidelines for being low calorie, low carb, or keto-friendly.
Jennifer Aaronson, Marley Spoon's culinary and brand director in the U.S., shares in their 2021 Sustainability Report:
"Our culinary process continually adjusts to our customers' needs and desires. A big part of that is listening to the types of recipes our customers want. Having a large variety of options to suit all customer preferences makes us the most versatile meal kit on the market… Our goal is always to surprise and delight our customers in the most delicious way possible."
Marley Spoon currently offers a variety of meat, fish, and vegetarian meals, along with low-carb, low-calorie, keto, low-fat, and vegan meals.
On their menu, you'll see each recipe comes with categories such as "Under 30 Minutes," "Low-Carb," and "Nutritious." According to the 2021 Sustainability report, "low-carb" indicates meals with a maximum carbohydrate allowance and "are suitable for those watching their carbohydrate intake or following a certain carb-conscious diet." As for the recipes labeled "nutritious," this means those recipes focus on nutrient-rich whole foods with minimally processed ingredients.
During the sign-up process, Marley Spoon asks a series of questions to gather information about your meal preferences. These questions include what types of recipes you enjoy (such as beef, vegetarian, fish, poultry, etc.), whether you prefer quick or relaxed meals, and whether you prefer traditional or adventurous recipes. This helps the company tailor their meal options to your specific tastes and preferences.
By asking these questions during the sign-up process, Marley Spoon is able to tailor their meal recommendations to your specific preferences and tastes, helping to streamline the meal selection process. It also allows you to easily find the recipes that appeal to you without having to sift through a large number of options that may not be of interest.
Does Marley Spoon Cater To Any Specific Food Allergies?
Yes and no. Let me explain…
Marley Spoon does offer some meals that cater to specific food allergies, such as dairy-free. However, they do not have a specific customization tool on their menu that allows customers to filter out allergens like dairy or soy. In our experience, Marley Spoon may not be the best for those who need an allergy-friendly meal delivery service.
That said, every recipe has a list of categories underneath it that describe the meal, and some of these categories include dairy-free, seafood, no added gluten, and vegetarian.
In their FAQ section, their response to whether they accommodate specific diets or allergies is:
"We'll always tell you exactly what you're getting, but we're unable to guarantee that produce has not come into contact with nuts or other common food allergens."
If you have a severe food allergy, it may be worth considering other meal delivery services such as Sunbasket or Green Chef, that may be more accommodating to your needs.
Marley Spoon's Range of Prices For Their Plans
Marley Spoon offers plans for two or four people, with options for two to six meals per week. The number of people and meals you choose does not affect the price per meal or the total weekly cost. The "make my box vegetarian" option also does not affect pricing.
Below are their prices based on the number of people and meals...
For 2 People:
2 meals per week = $12.99 per portion at a $63.95 total weekly cost
3 meals per week = $10.99 per portion at a $77.93 total weekly cost
4 meals per week = $10.49 per portion at a $95.91 total weekly cost
5 meals per week = $9.99 per portion at a $111.89 total weekly cost
6 meals per week = $9.49 per portion at a $125.87 total weekly cost
For 4 People:
2 meal per week = $10.49 per portion at a $95.91 total weekly cost
3 meals per week = $9.49 per portion at a $125.87 total weekly cost
4 meals per week = $8.99 per portion at a $155.83 total weekly cost
5 meals per week = $8.99 per portion at a $191.79 total weekly cost
6 meals per week = $8.69 per portion at a $220.55 total weekly cost
Does Marley Spoon Charge Shipping?
Yes, shipping is always $11.99 no matter the plan you choose or where you live in the United States. Marley Spoon delivers to most of the contiguous United States. You have to input your zip code before selecting your meals to verify if they can deliver to your location.
You can skip a week if needed and can skip a week up until five days before the scheduled delivery. You can select this option up to 7 weeks in advance.
Marley Spoon's Sourcing Practices & Ingredients Quality
Marley Spoon is known for using high-quality ingredients in their recipes. While it shows in the quality and taste of their meals, there is limited information available about the specific sources of these ingredients.
They do share that some organic ingredients are used, however, it is unclear to what extent the ingredients used are organic or non-GMO. It would be helpful to have more transparency about the sources of the ingredients used in Marley Spoon's recipes.
Here's everything I found about Marley Spoon's sourcing practices:
They try to source from local supplies as much as possible and focus on in-season produce.
They "strive" to source from sustainable agriculture, fisheries, and animal farming.
Marley Spoon is dedicated to animal welfare and sourcing from farms that practice compassionate animal husbandry.
Marley Spoon recently aligned with the Better Chicken Commitment policy, which sets standards for animal welfare amongst poultry suppliers. In other words, they now only source their poultry from farms that meet the standards of the Better Chicken Commitment policy.
It appears that Marley Spoon places a strong emphasis on using high-quality ingredients in their meals, though it is unclear to what extent they prioritize organic and non-GMO products. It is worth noting that while they do use some organic ingredients, they do not explicitly state that they exclusively use organic products or provide information on their sourcing practices. However, given their focus on quality, it can be assumed that they prioritize using the best ingredients available to them.
Who Is Marley Spoon Best For?
Marley Spoon is a great option for those who enjoy cooking and trying new recipes, as well as for those who appreciate a wide range of meal options. However, it is not meant to completely replace grocery shopping, as it only provides a limited number of meals per week (up to six). Keep this in mind if you are considering using Marley Spoon to simplify your meal planning and preparation.
If you're comfortable in the kitchen and love to cook (and, more importantly, eat) delicious, gourmet-quality meals, Marley Spoon may be a good fit for you. However, it's worth noting that Marley Spoon recipes are not always the easiest or quickest to prepare, so if you're looking for more convenient, faster meal options, you may want to consider other options such as pre-made or oven-ready meal delivery services.
It's also worth noting that Marley Spoon isn't the most affordable meal kit. If you're looking for a cheaper meal delivery service that offers easier/quicker recipes, you might want to check out Dinnerly (also owned by Marley Spoon).
Lastly, if you prioritize organic ingredients in your meals, Marley Spoon may not be the best fit for you. In this case, it may be worth considering fully organic meal delivery services like Sunbasket or Green Chef.
How To Cancel Your Marley Spoon Subscription
If you decide that Marley Spoon is not the right meal delivery service for you, cancelling your subscription is a straightforward process.
The easiest way to do it by simply going to your account settings, scrolling down, and selecting "pause or cancel subscription." You can cancel your subscription at any time and orders can be cancelled up to 5 or 6 days before delivery (depending on the day you do it).
After canceling, Marley Spoon may ask you to take a brief survey to understand the reason for your cancellation.
Overall though, the process of cancelling a Marley Spoon subscription is quick and easy (especially compared to other meal delivery services out there).
Marley Spoon: Is It Right For You?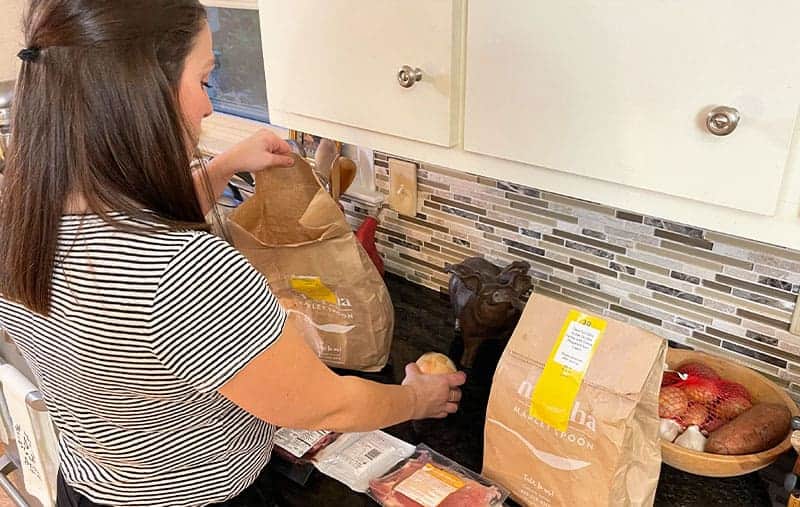 Now you should have a better understanding of whether or not Marley Spoon is a good fit for you.
If you're looking for high-quality, gourmet-style meals with a variety of options and the guidance of Martha Stewart's recipes and techniques, Marley Spoon may be worth considering. However, if you're seeking more budget-friendly options, quicker and easier recipes, or fully organic meals, there may be other meal delivery services that better meet your needs.
If you've tried Marley Spoon and feel there is more to add to help potential customers make an informed purchase, please let us know in the comments below. We'd love to hear from you!