Are you looking for a way to make mealtime easier? Wondering how you can do that without having pre-made meals or ingredients delivered to your door? eMeals could be just what you need to put delicious food on the table day or night!
While most meal subscription services are providing you with recipes and pre-portioned ingredients or pre-made dinners, eMeals is different. Instead, you're paying a small monthly subscription fee to have access to their library of recipes and their smartphone app. Their plan helps to select meals for you based on your needs. Then, it populates everything into one comprehensive grocery shopping list.
It's meal planning made easy! They choose the dishes and create the shopping list, while you head to the store and pick up everything you need. You'll then have all the necessities to put together amazing breakfasts, lunches, and dinners on any day of the week. Does that sound like a great plan to you? Keep reading to find out what you need to know about eMeals!
How to Join eMeals

If you're interested in signing up for eMeals, you'll need to first visit their website. There, you will be walked through the process of setting up an account. When you do this, you won't be charged anything right away because you'll first be placed into a 14-day free trial to test out their service and see if it's right for you.
To get started, they'll ask for a few bits of information. They'll need to know your family size to determine how many servings your meals need to be. You can choose between two different options: meals for two (this provides 1-2 servings for each dish) or family (this provides 3-6 servings for each dish).
Next, you'll need to choose your food style. They have a variety of meal plans for you to choose from, which provides plenty of options based on your dietary needs. The current available meal plans include: 30 Minute Meals, Budget-Friendly, Classic, Clean Eating, Diabetic, Gluten-Free, Heart-Healthy, Kid-Friendly, Low Calorie, Low Carb, Low Fat, Mediterranean, Paleo, Portion Control, Quick and Healthy, Simple Gourmet, Slow Cooker, and Vegetarian. There are also meal plans done in collaboration with Better Homes and Gardens, Dr. Axe, EatingWell, and Paula Deen.
With so many options to choose from, you're sure to find something that suits you, whether you're working around food allergies like gluten, steering clear of carbs or fatty meals, or just want something that's quick and easy. If you ever decide you'd like to switch your meal plan, you can absolutely do that. eMeals strives to provide flexibility to the customers using their service, so you can switch your meal plan any time you want and ass often as you want both online and on the smartphone app.
After you've chosen your meal plan, you'll finish the process of creating your account. Then, they'll provide you with a selection of meals that fits within your chosen meal plan. You make the final decision though, so you're able to choose exactly what you'd like to eat each week. Their app then does the rest of the work by creating a grocery list of all the items you'll need to create the dishes on your weekly meal plan.
Once you have your shopping list, it's your turn to step up to the plate. You have to head to the grocery store to pick up all the items you need. Then, you'll have everything you need and no excuses for not sticking to your meal plan throughout the week. Nor will you have to make any unexpected trips to the grocery store to pick up extra items.
Types of Food They Offer
The types of food that appear in your eMeals account will depend on the meal plan that you have chosen. Their service picks meals that fit your needs so you don't have to stress about planning meals yourself. To give you an idea of what you can expect, here are some examples…
On the Dr. Axe meal plan, you can expect to find dishes such as: Sheet Pan Rosemary Mustard Chicken with Roasted Tomatoes, Lettuce Wrapped Fish Tacos with Mango Salsa, Grilled Dry Rub BBQ Chicken Thighs with Kale Cabbage Slaw, and Stuffed Peppers.
If you're looking to save some cash, their Budget-Friendly meal plan provides some great options. You'll find dishes like: the Mexican Chicken Skillet with Baked Creamy Rice and Green Beans, Garlic Roast Beef and Onions with Fried Creamy Rice Squares and Green Beans, and Cream French Dip Sandwiches with Roasted Potato Wedges with Kicked-Up Ketchup.
You can even choose to dip into the EatingWell vault by checking out their meal plan. On this one, you'll find dishes such as: Lemon & Herb Salmon with Caponata Farro, Sesame Ginger Pork Patty, Crispy Cod Sandwich, and Pistachio Crusted Chicken. It's a great option for someone who likes to keep things interesting in the kitchen!
Not only will you find options for breakfast, lunch, and dinner, but they have desserts as well! Their Dessert Plan includes things like: Chocolate Pretzel Slab Pie, Buttery Toasted Vanilla Clusters, and Crunchy Streusel Pumpkin Loaf. The ideas really are endless here!
Using Their App
Using the eMeals app is a huge part of their service. It makes it easy for customers to scroll through available recipes and select which ones they'd like to try. The shopping list of all the necessary ingredients are then populated right inside the app. You're able to check off things as you pick them up in the store, making meal preparation so much easier. There's no need for paper grocery lists with their app on your device!
The best part is, the eMeals app is available for both iOS and Android devices. Once you've activated your subscription via their website, you're able to log into the app and begin using it right away. It's very user-friendly and you'll be able to easily check out recipes that may be of interest. Each recipe contains a photo, an ingredients list, and step-by-step instructions for you to follow along with.
Ease of Cooking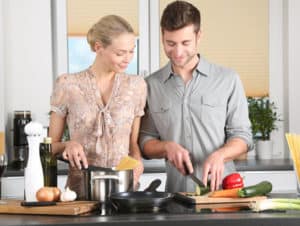 One of the great things about eMeals is that you don't need to be a professional chef to whip up the recipes in their library. Overall, everything is pretty easy to prepare and won't require anything too out of the ordinary. Since they provide you with step-by-step instructions, even amateur cooks can feel confident in the kitchen.
All you have to do is get the ingredients and follow along with their steps. In no time at all, you'll be able to cook up something that tastes great. You and your family are sure to love any of these recipes, too!
If you are looking to stick with easy recipes, eMeals does have plans that cater to that. You can look into their 30-Minute Meals plan, which provides you with a plethora of recipes that won't take very long to prepare. This is perfect for any busy adults who have to come home and cook something quick after a long day at work. If you have kids who get impatient for dinner, they won't have to wait long when you have these 30-minute dishes on the menu.
Another option is the Slow Cooker plan. If you have a busy day, you can throw everything into the slow cooker, let it cook, and go about your day. It's perfect for those who have a lot going on and don't want to spend over an hour prepping in the kitchen. You can keep these plans in mind for those busy weeks where you just want something simple and stress-free!
How Good Are The Recipes?
One of the great things about eMeals is that they provide you with a variety of recipes to choose from. Once you've selected your meal plan, you get to choose any dishes that appeal to your taste buds and whatever you happen to be craving.
Fortunately, the recipes they have available to you are pretty impressive. You'll never get stuck in a rut with what you're eating. However, you should keep in mind that you're the one purchasing ingredients and doing the cooking. This is going to play a huge role in the end result of your meal. Make sure you're purchasing fresh, quality ingredients to prepare your dishes for the most flavorful taste.
They have some amazing breakfast options to choose from. The Bacon and Cheese Biscuits were filling and delicious. It was paired nicely with a Strawberry & Orange Fruit Salad. If you're a fan of the breakfast smoothie, you'll love the Peach Melba Smoothie. It's refreshing and the perfect way to start a busy day of work.
For dinner, the Smoky Southwest Burgers with Roasted Cumin Vegetables were definitely a hit. The chipotle pepper in adobo sauce added just the right amount of kick to put a fresh spin on a classic dinner item. Another favorite was the Baked Maple Chicken Breasts with Bacon-Wrapped Sweet Potato Wedges. The chicken was flavorful and could quickly become a favorite for you and your family. Wrapping bacon around the sweet potato wedges was a fun idea and certainly worth indulging in.
If you're a pasta lover, you're sure to enjoy the Vegetable-Ground Beef Ragu. Instead of traditional wheat pasta, this dish calls for "noodles" made from spaghetti squash. It's a lighter option for dinner, but still keeps you feeling full and satisfied. It's sure to become a staple in your regular meal planning over your usual pasta dishes.
Pricing
If you're interested in trying eMeals, they offer a 14-day free trial to get you started. This will allow you to try out their service and the app without having to commit to any subscription fees. Clearly, they want customers to make smart choices when joining their service, so be sure to take advantage of this if you want to sign up.
After the free trial wraps, there will be a subscription fee that is required to be paid monthly. It costs as low as $5 a month for a 12-month subscription. You can also choose the three-month subscription for $10 per month. By signing up, you'll receive full access to their library of recipes, plus the simplest way to create grocery shopping lists there is. It doesn't get any better than that!
Final Thoughts
If typical meal subscription services aren't your thing, consider signing up for eMeals. Instead of receiving pre-made meals or pre-portioned ingredients, you can receive a custom-made meal plan that's tailored to your dietary needs. You can use their service to plan out an entire week's worth of meals that are both healthy and delicious.
It takes the stress out of meal planning by suggesting recipes for you and even creating the grocery list. So, if meal planning isn't your thing but you love to grocery shop and cook meals, you and eMeals would be the perfect match. And the best part? You can give it a go without paying a penny with their 14-day free trial offer. You'll love preparing meals with the help of their website and smartphone app!