When choosing to leave your home country and move somewhere new, you're sure to face a lot of challenges. Not only do you have to say goodbye to your friends and family, but you also have to prepare yourself to adjust to a brand new country and culture. One of the trickiest things about that, which many don't realize, is that you often have to give up the comfort foods that you became so accustomed to back home.
Instead of completely giving up those delectable treats you love so much, you can sign-up for a monthly food subscription box that promises to bring your favorite treats right to your doorstep. That box is Expack and each month it's loaded with delicious items for you to enjoy.
Created by a Puerto Rican, a Serbian, and a Frenchman, Expack has been designed to make it easy to find all of your favorite snacks from your home country. As we all know, it's hard to find foreign treats once you relocate and it's rather costly to have friends and family back home ship them to you. Instead, Expack does all the hard work by curating snacks with the help of other expats.
You can find boxes for the following countries: Brazil, United Kingdom, Canada, France, Germany, Puerto Rico, India, Japan, and Korea. Each box contains five to seven full-sized items and can be delivered to your doorstep right here in the United States. It's the easiest way to receive that comforting taste of home while living life as an expat.
How to Join & Choose Your Items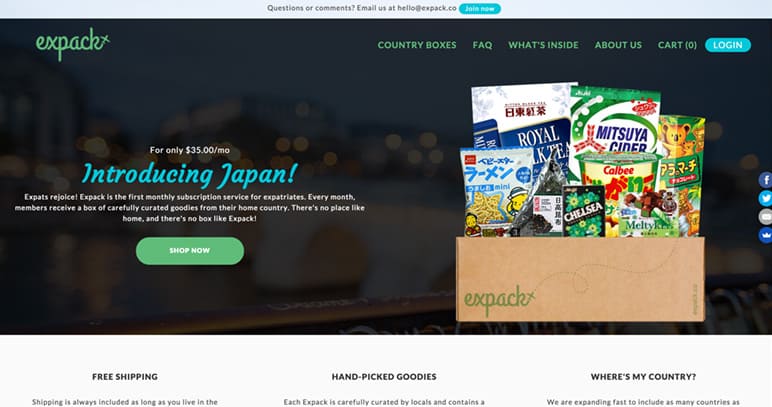 To get started with Expack, you need to first choose which country box you'd like to receive. You can choose to receive the box from your home country or you can get a little adventurous with your selection and order a box from somewhere else in the world. It gives you an opportunity to see what the popular snacks in other countries are like.
As mentioned above, you can choose from Brazil, United Kingdom, Canada, France, Germany, Puerto Rico, India, Japan, and Korea for your monthly box. If you ever decide you'd like to switch it up, you'll need to make that change in your account before the cut-off date so the changes will go into effect.
You also have the option to choose their "Around the World" box, which gives you the chance to taste treats from a different country every month. This is perfect for anyone who wants to explore the world of tasty snacks and even great for those of you who aren't expats, but still wants to try it out.
Unlike some food subscription boxes, you are not able to select the items that come in your Expack box. They simply state there's no fun in being able to choose your own snacks! Instead, each box is curated by locals from each country to ensure you get a true taste for what they're eating. It also gives you a peek into what their culture is like and what's popular there.
If this has you feeling a little nervous about what kind of snacks will arrive on your doorstep, Expack does allow you to take a look inside each box in advance. This gives you the opportunity to decide if that month's box is right for you. If it's not, you can easily skip the month and resume next time.
Types of Food They Offer

From potato chips to cereal, chocolate and other sweet candies, you really will find it all inside the Expack boxes. Because the items in each box are curated by expats themselves, they know the popular treats other expats are likely missing from their home countries. Even though you're unable to choose the snacks you want in your box, you can certainly count on other expats to choose just the foods you've been missing.
The snacks you receive will obviously vary from month to month and will be dependent on the country you selected. To give you an idea of what you can expect, a recent Canadian box included snacks such as: Old Dutch Ketchup-Flavored Chips, Lay's Dill Pickle Potato Chips, Hickory Sticks, Maynards Wine Gums, and many other fun items.
Delivery
Orders begin shipping on the 5th of each month, so you should expect to receive your box shortly thereafter. Once it has shipped, you will receive an email with tracking information so you can keep an eye on your package and anticipate its arrival.
You are able to sign-up until 9 PM Pacific Time on the 4th of every month, unless Expack has stated otherwise. If you place your order after 9 PM Pacific on the 5th, your first box will arrive the following month.
Shipping is currently available within the continental United States. Canadian boxes, however, are available to be shipped worldwide. International orders do require an extra charge of $10 USD for shipping. Keep in mind that the country you live in may charge you for customs and/or taxes as well. You'll want to factor that into the final cost of your box before placing an order.
Packaging
Because nothing needs to be kept cold during delivery, there's no need for dry ice or any other kind of insulation. Everything is packaged neatly in single box that contains the Expack logo. You also won't have to deal with any excess packaging, which is always a plus. All of your items should arrive safe and sound without any trouble.
Freshness of Food
The other benefit of items not needing to be kept cold is that there's no chance of them spoiling before they arrive on your doorstep. All items are checked for expiration dates before being packed, so everything you receive will be fresh and ready for you to eat and enjoy.
If you have concerns about an item in your box, you can always inform Expack's customer service team. However, the company does not provide any refunds and you cannot return a box. Once you've received a box, it's yours to keep. If there's something inside your box that isn't your cup of tea, you can always share it with a friend!
Ease of Cooking
Perhaps one of the best things about Expack is that there's no need to have skills in the kitchen because cooking isn't required! The Expack boxes are filled with snacks and/or drinks that are ready for you to enjoy without any preparation required. You can open a bag of your favorite chips or grab a box of that cereal you love and just start eating. This also makes many of the snacks portable, so you can easily toss them in your bag before you have to run out the door.
Taste
For an expat living in a foreign country, there really is nothing like the taste of home. Because these boxes are curated by expats themselves, they typically have a good idea of which snacks are popular in their home country and therefore can guess which snacks you might be missing from there. However, because you are unable to choose the snacks that go into your Expack box each month, there's always a chance that you'll receive something that might not have been your most favorite snack to munch on. For the most part though, it's safe to say you'll love everything you receive.
If you choose to venture outside of your home country and order treats from somewhere else in the world, it's your opportunity to be a bit adventurous. Don't be afraid to try something new because you just might find that you actually love it and might want to find more.
Pricing
If you choose to purchase a subscription using the month-to-month option, each box will cost you $35 USD. (All orders are charged in USD.) Although, you do have the option to prepay a few months, which will save you some cash. You can do a three-month prepay for $99.00 or a six-month prepay for $186.00. When subscribing for six months, you'll save over 10% each month. This option also gives you the chance to receive all of Expack's holiday and special occasion items.
One important thing to note is that not all countries allow you to select the three-month and six-month prepay options. If this is what you're interested in, you'll have to check and see if it's available for your desired country's box. The country boxes eligible for prepaid plans include: Japan, Canada, and Brazil.
Do remember that this is a monthly subscription service and you will be charged every month for a new box. Billing occurs every month on the 15th, so if you need to make changes to your order or pause your subscription, you'll have to do so by then. If you choose to cancel your order, you can do so at any time by logging into your account.
Final Thoughts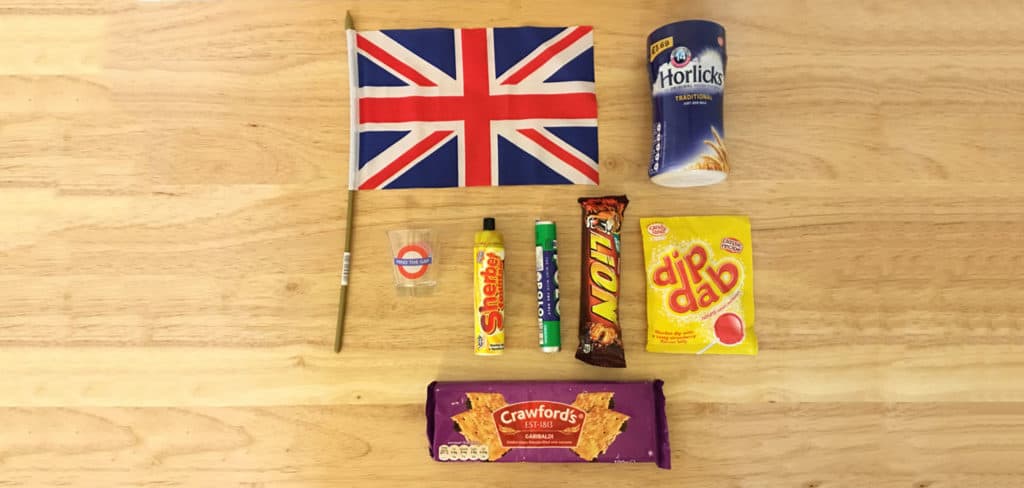 Overall, the concept behind Expack is pretty impressive. For many who move to a new country, they miss the snacks that they became familiar with back home. Being that it's difficult to get ahold of those snacks in another country, Expack has truly made it easier to bring the comfort of home to expats.
If you recently moved and are missing the snacks you're used to having on hand, you should definitely give Expack a try. With options for Japan, Canada, France, Brazil, United Kingdom, Germany, Puerto Rico, and Korea, you're sure to find just what you need with this monthly subscription. If you don't see your desired country on their list, you can also send them an email to recommend it!
For those of you who aren't expats, don't think you can't enjoy Expack as well. If you're wanting to try popular snacks from another part of the world, this is the perfect opportunity to do so. You can choose the country you'd like to get a taste of or choose their "Around the World" option to receive a different country every month. Expack is a great way to get tasty snacks delivered right to your door.