Wouldn't you love to find a way to explore your foodie side by snacking on delicious treats, while also giving back to those in need across the world? Absolutely! And that's exactly what Love With Food enables so many people to do on a monthly basis.
Love With Food is a monthly food subscription box that was founded by Aihui Ong. After ending a verbally abusive marriage, Aihui set out to travel around the world. She traveled to 20 different countries and spent 12 months exploring. What she found was that many people in various countries were living in poverty. People were living without clean drinking water and food to eat.
Upon returning home to America, a friend of hers revealed she had been diagnosed with breast cancer. Unsure of what to say to comfort her friend, Aihui offered to cook for her because she said it was the only way she knew how to show love.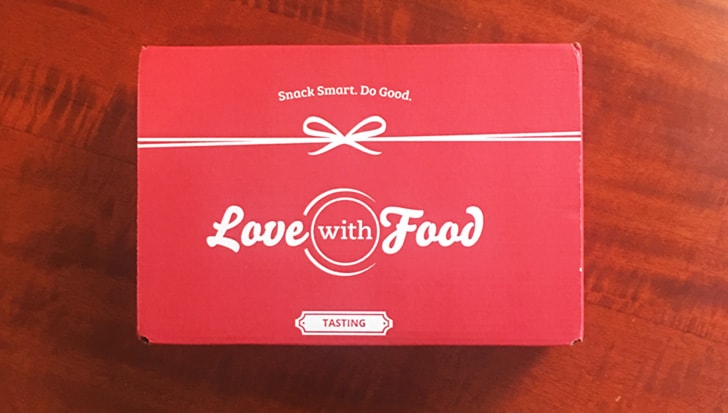 Shortly after this, one of Aihui's friends had sought out to launch an all-natural stir-fry sauce. She started this business using her own savings, but unfortunately things were not as successful as she had hoped they'd be. This is ultimately what inspired Aihui to do something that would help others who were passionate about food.
She learned how to code and developed a website that helped food creators find distribution methods and also allowed consumers to discover amazing food. And that is how Love With Food came to be. But to make it even better, she decided that she needed to give back to those children who are starving all over the world.
When you purchase one of the Love For Food monthly boxes, you receive organic, all-natural, or gluten-free snacks that are sure to taste great. However, you'll also get the satisfaction of knowing you did something great because a portion of the proceeds helps to fight childhood hunger in the United States and countries around the world. The company donates to organizations such as Feeding America and The Global Food Banking Network. Great food and a company that gives back? It doesn't get much better than that!
How to Join & Choose Your Items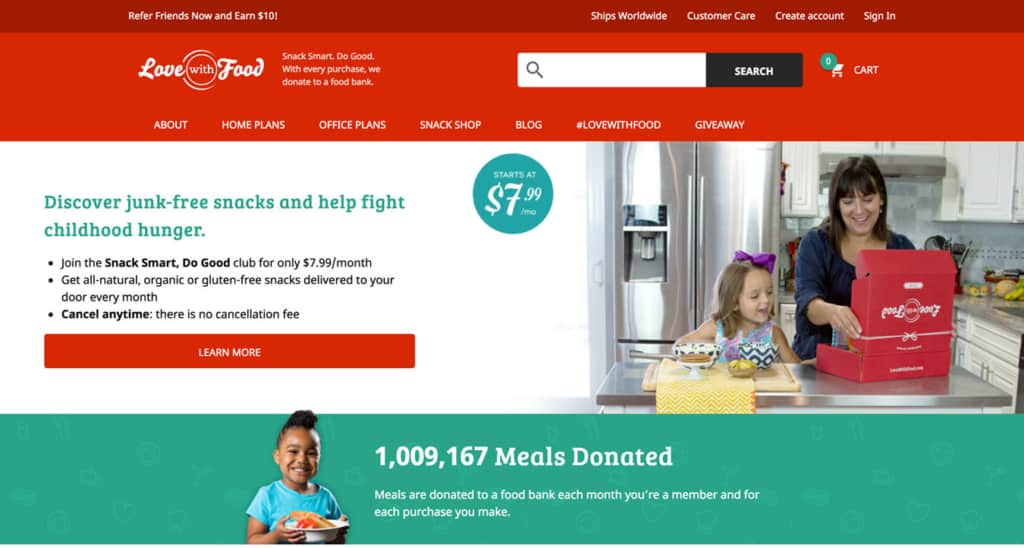 Ordering your first box from Love With Food is pretty simple! The first thing you'll want to decide is if you're purchasing a box for your home or your office. They do offer office plans for those who need extra snacks to accommodate fellow coworkers.
If you're ordering a box for your home, you'll discover three options listed on their website. If you live in the United States, you are able to choose a Tasting Box for $7.99 per month. This box will contain 7+ snacks for you to enjoy. Each Tasting Box that is purchased will donated one meal to hungry children. If you're looking for something more substantial, the Deluxe Box is right up your alley with 15+ snacks in every box. Every purchase of the Deluxe Box donates two meals to hungry children.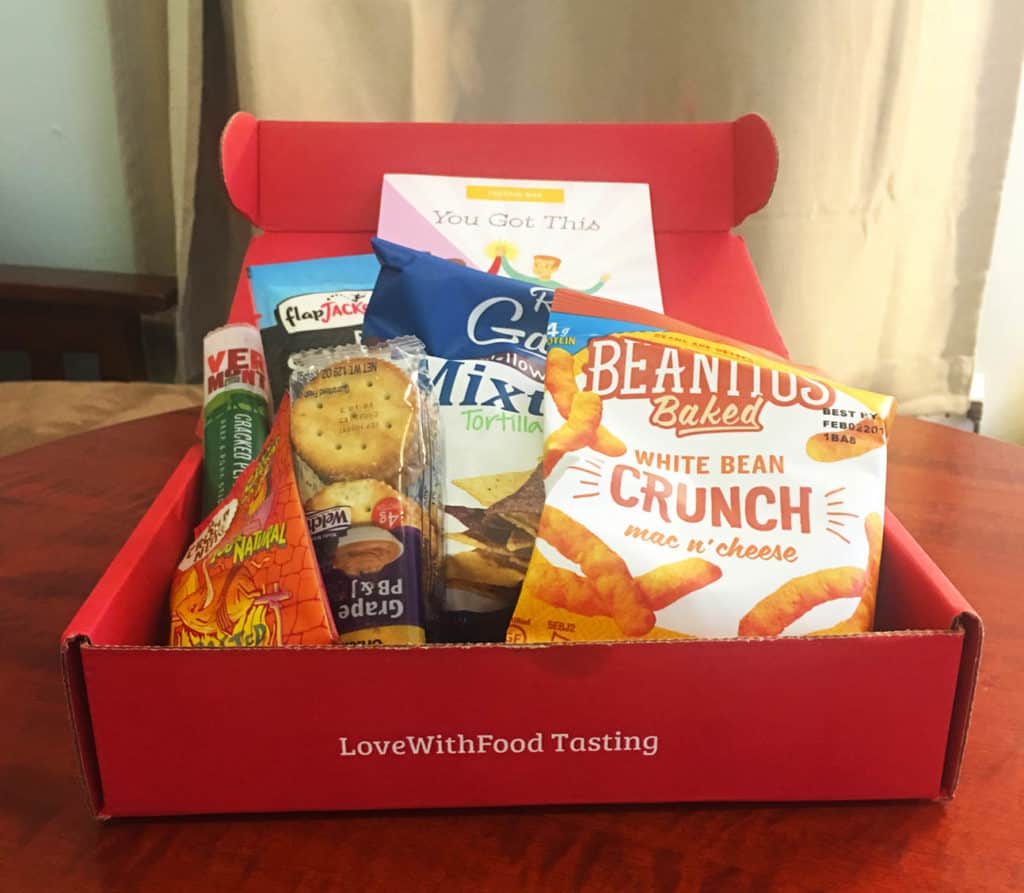 For those who have a sensitivity or allergy to gluten, there's a gluten-free box just for you! This box contains 10+ snacks every month and each purchase will donate two meals to hungry children. This is perfect for anyone looking to discover new, healthy snacks that are free from gluten ingredients.
Once you've chosen your desired box, you'll then need to select a subscription plan. You can choose a month-to-month plan, an annual plan, a three-month plan, or a six-month plan. Signing up for longer plans will actually save you money in the long run, so consider how long you might want to receive these snacks.
For those interested in the office plan, that box will contain 65 snacks and 10 varieties in each tray. Each tray purchased will donate 15 meals to hungry children across the world. You can choose to order either one tray per month or two, depending on how much you need for your office.
Unfortunately, you are not able to choose the snacks that go into each Love With Food box that you purchase. You just have to put your snacks in the hands of the company's curation team and keep your fingers crossed that something delicious lands on your doorstep. However, since they are particular about the types of foods they put in their boxes, you're sure to get something great.
Types of Food They Offer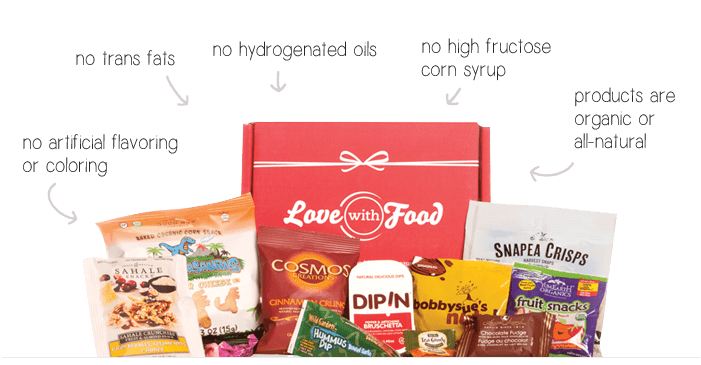 While many people think of unhealthy items when it comes to snacking, that couldn't be further from the truth when it comes to Love With Food. The company states their team hunts down "the most unique, organic or all-natural snacks" for each of their monthly boxes. When you open your box, you can expect to find snacks that are free from: artificial flavoring and coloring, trans fat, hydrogenated oils, and high-fructose corn syrup. So, there's no need to feel guilty about these snacks!
The snacks they offer in each month's boxes will vary, however you can purchase specific items through their Snack Shop. A few examples of the snacks you'll find available for purchase include: Almond Pops with Blueberries, Ginny Bakes Mini Chocolate Chip Cookies, Surf Sweets Organic Fruity Bears, Plantain Strips, Buff Bake Snickerdoodle Protein Cookie, Chickpeatos in Tomato Basil, and even some Banza Chickpea Pasta. This list gives you a pretty good idea of what you can expect to find in your monthly box from Love With Food.
Delivery
The snack boxes from Love With Food currently ship to addresses in the United States, United States territories, and APO/FPO/DPO. They also ship internationally to the following countries: Australia, Austria, Belgium, Canada, Czech Republic, Denmark, Finland, France, Germany, Hungary, Iceland, Ireland, Israel, Italy, Luxembourg, Netherlands, New Zealand, Norway, Poland, Portugal, Singapore, South Africa, Spain, Sweden, Switzerland, and the United Kingdom.
Boxes being sent to addresses within the United States and its territories do not require shipping costs. However, if you are ordering a box to be sent internationally, it will cost $3.99 per month for shipping.
Love With Food subscriptions are only delivered monthly and you can expect your box to ship around the tenth day of each month. When your box has shipped, you will receive a shipping confirmation email that contains a tracking number. This USPS tracking number will allow you to keep an eye on your box so you can anticipate its arrival. Love With Food reports that customers typically receive their boxes between the 15th and the 24th of each month.
Packaging
None of the items that come in your monthly subscription box will need to be kept cold. For this reason, there's no need for dry ice or insulated boxes to keep your snacks cool during delivery. Your treats will arrive in a simple box with everything packaged neatly.
Freshness of Food
As mentioned, there's no need to keep the snacks in the Love With Food boxes kept cold. This means that you don't have to worry about anything spoiling during delivery. Instead, you can count on ready-to-eat snacks that are fresh (nothing expired!) and made only with the best ingredients. There are no artificial flavorings or colorings, trans fats, hydrogenated oils, and no high-fructose corn syrup in the snacks you'll receive.
Ease of Cooking
For the most part, the snacks you receive from Love With Food are ready for you open, eat, and enjoy. You won't have to worry about cooking most of the items in your box since they are snacks and designed to be grabbed and consumed at a moment's notice. You can even take them on the go to fight off hunger pangs while you're out and about.
You may, however, find a few items that require a little preparation before consuming. For example, their gluten-free box has been advertised as providing a pizza crust mix at one point in time. This would obviously require some preparation and cooking on your part. So, in the end it all depends that you receive in your box. The good news is, most of the items won't require much effort on your part.
Taste
Because each Love With Food box is carefully curated with snacks that contain only the best ingredients, you can certainly count on everything in your box tasting great. However, many people find it frustrating that you aren't able to customize your box or pick and choose what goes into it. Instead of looking at it that way, view it as an opportunity to step outside your comfort zone and try something new. Odds are, you'll find plenty of new treats in your box because Love With Food strives to find things that are unique.
One of the favorite things to find in a Love With Food box is definitely cookies. How could anyone resist a delicious, healthier cookie option? The gluten-free cookies from Lucy's are a huge hit! And for those chocoholics out there, the Salted Caramel Brownie Brittle is definitely a winner. Other favorites include: Raspberry Truffle Coated Pretzels, Chewie Fruities, and Lemon Chia Crunch Power Snackers. The Salted Cacao Coconut Chips were also an amazing treat to indulge in without the guilt.
Pricing
Pricing of your Love With Food box will depend on the size of the box you order and the subscription plan you choose. As mentioned above, their home plan includes three options: Tasting Box, Deluxe Box, and Gluten-Free Box. The Tasting Box contains 7+ snacks and costs as low as $7.99 per month. The Deluxe Box contains 15+ snacks and costs as low as $16.50 per month. And finally, the gluten-free box contains 10+ snacks and costs as low as $19.99 per month.
Here are the subscription options for a Tasting Box: $9.99 for a month-to-month plan, $7.99/month for an annual plan, $8.99/month for a three-month plan, and $8.50/month for a six-month plan.
Here are the subscription options for a Deluxe Box: $19.95 for a month-to-month plan, $16.50/month for an annual plan, $18.99/month for a three-month plan, and $17.99/month for a six-month plan.
Here are the subscription options for a Gluten-Free Box: $24.99 for a month-to-month plan, $19.99/month for an annual plan, $22.99/month for a three-month plan, and $21.99/month for a six-month plan.
As you can see, if you sign up for a longer plan (the annual plan), you'll ultimately save more money on your monthly costs. If you think you want to purchase a Love With Food box for the long-term, you'll want to consider purchasing an annual plan to save you some cash.
There are also office plans to choose from. If you choose a single tray per month, the options are as follows: $129 for a month-to-month plan, $99/month for an annual plan, $119/month for a three-month plan, and $109/month for a six-month plan. To receive two trays per month, these are your options: $258 for a month-to-month plan, $198/month for an annual plan, $238/month for a three month plan, and $218/month for a six-month plan.
You're able to cancel your subscription at any time you wish and there is no cancellation fee required. So, there's no need to worry about being locked into a subscription plan after you've placed your first order.
Final Thoughts
Overall, Love With Food is a fantastic option for the foodie who loves to have healthy and delicious treats on hand. Not only is this subscription box a great way to satisfy your own cravings, but it also does an amazing thing by giving back to hungry children all over the world. It's important to keep in mind that a portion of the proceeds from every box gets donated to charities that feed children living in poverty. So, not only do you get to enjoy a tasty snack, but you get to help others at the same time.
One of the best thing about Love With Food is that they've set out to make snacking healthy. There's no reason to reach for potato chips that are greasy and loaded with salt when you have high-quality snacks being delivered right to your doorstep by Love With Food.