Are you a big snacker? If you are, how would you like to receive an assortment of some of the best snacks from around the world delivered straight to your home? MunchPak is a service that has designed a way to make it even easier to satisfy those afternoon snack cravings.
You'll receive an array of unique and tasty items that you can stash in your lunch box or take with you when you're on-the-go. Plus, it's a great way to experience treats from all over the world, so you'll never get bored with your snack choices! Not only that, but you'll even receiving a refreshing beverage to wash those tasty snacks down.
If MunchPak sounds like just what you need in your life, keep reading to figure out how you can sign-up and what kind of snacks you can expect to receive in your box!
How to Join & Choose Your Items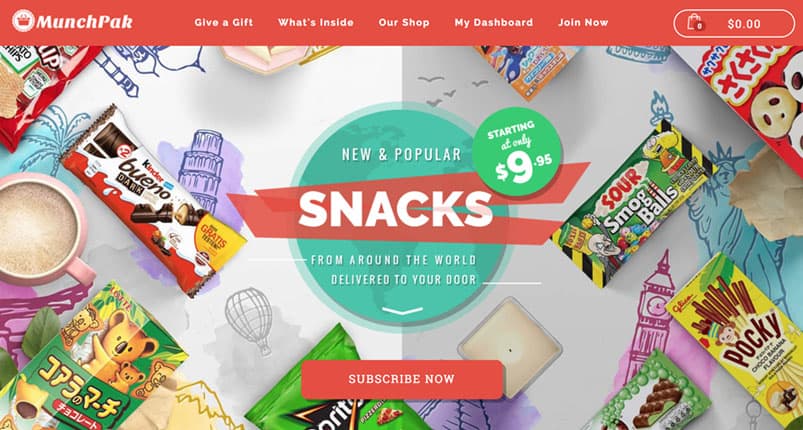 MunchPak has made it easy to get started and to order your first box. To join, you'll need to first decide how many snacks you'd like to receive in your box. There are three different options: five snacks, 10 snacks, or 20 snacks. These are all full-size snacks for you to enjoy. Then, you need to choose how often you want to receive a box, whether it's monthly, every two weeks, or weekly.
Once you've made your selection, you'll be prompted to choose how often you want to pay. If you choose to receive a box every month, you can pay with each delivery, every three months, every six months, or every 12 months. Paying every 12 months is deemed to be the best value, as the other three options have additional fees that range from $1 to $3.
If you want to receive new snacks every two weeks or every week, your options for how often you want to pay are as follows: every delivery, every one month, every three months, or every six months. Having this ability allows you to fully customize your subscription, which is certainly a plus. You'll always know when a new box is coming and when you'll be charged.
From there, you'll need to customize your package. MunchPak allows you to make customizations in case you're a picky eater or if you have food allergies of any kind. You can choose from the following options: spicy, salty, sweet, sour, chewy, crunchy, gummy, seafood, nuts, meat, candy, chips, cookies, foreign snacks, and American snacks. You can select which ones you want and which ones you don't want, however there is a $1 fee for each customization you make.
Next, you'll then be able to add a drink to your box since all those new snacks are sure to make you thirsty! You can choose between coffee or tea. Adding this customization will cost $5 each.
Once you've made this final decision, you're all set to place you order! You'll be prompted to add your email address, shipping address, and billing information to finalize the order.
Types of Snacks They Offer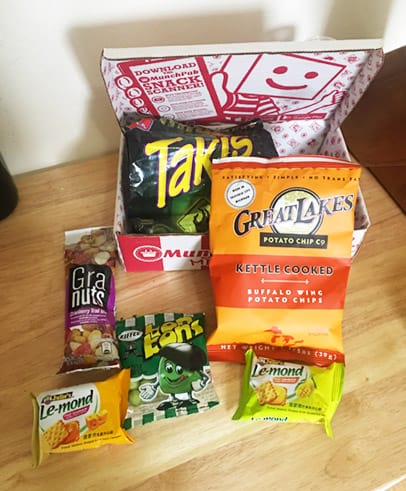 Each box contains a variety of snacks that have been carefully curated by the team at MunchPak. You will receive items based off any specific customizations you made during the ordering process, so you shouldn't have to worry about receiving anything you aren't interested in. Everything will be tailored to your own personal preferences!
Inside your box from MunchPak, you can expect to find things like: potato chips, sour candies, sweet treats, and products from other countries that you wouldn't readily have access to. If there's anything you love in your box and want to purchase more of, you can do so in their online shop.
Some of the snacks they have available (and that could find their way into your first box), include: 7Days Bagel Chips, Alamo Candy Peanuts & Pepitas, Balconi Trancetto Cocoa Cake, Barcel Hot Nuts Fuego Flavor, Barratt CandyLand Refreshers, Bourbon Fettuccine Grape Gummies, Burts British Hand Cooked Potato Chips, Chewits, and Festy Vanilla Cookies. Their shop is filled with items, so you're sure to find something you like there.
For drinks, you might receive coffee, tea, juice, energy drinks, or soda inside your MunchPak box. Some of the sodas you may find include: Cocorico Coconut Flavored Soda, Lotte Milkis Apple Soda, Ramblin' Rose Cream Soda, or Avery's Kitty Piddle Soda.
Delivery
MunchPak has a pretty expansive delivery range, as they ship their boxes to multiple countries around the world. They currently ship to the following: Australia, Austria, Belgium, Bosnia and Herzegovina, Brazil, Bulgaria, Canada, China, Czech Republic, Denmark, Finland, France, Germany, Greece, Hungary, Iceland, India, Ireland, Israel, Italy, Jamaica, Japan, Jordan, Lebanon, Netherlands, New Zealand, Norway, Philippines, Poland, Portugal, Romania, South Africa, South Korea, Spain, Sweden, Switzerland, Turkey, United Kingdom, and the United States.
If the country you live in isn't on the list above, you can contact MunchPak to see if they will make an exception and send a delivery your way.
Orders placed with MunchPak are shipped every day, Monday through Friday. They aim to ship all orders within 72 hours or less, however they ask customers to allow up to five days for custom and international orders.
Standard shipping within the United States is free. The average delivery time is four to eight business days. In the U.S., you also have the option to do expedited shipping, which typically takes one to three business days.
For international orders, it usually takes anywhere from five to 15 business days for your order to arrive.
Packaging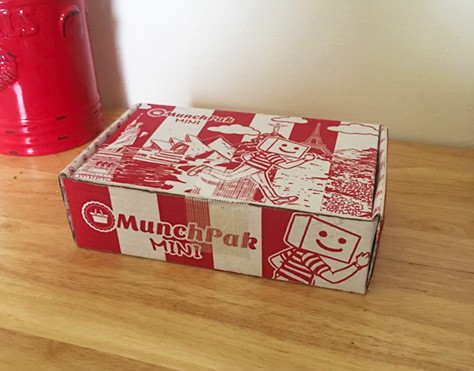 Your MunchPak order will arrive in a cardboard box. Because these snacks are all safe to be kept at room temperature, nothing needs to be kept cold during transit. This means there won't be any insulated packaging or ice packs you need to dispose of. Once you've unpacked all of your snacks, you can recycle the cardboard box at your local recycling facility.
Freshness of Food
Because the contents of every MunchPak order are carefully curated by their team, you shouldn't have to worry about the freshness of any item in your order. You won't receive anything that's expired or nearing expiration. This means you'll have plenty of time to enjoy the snacks you receive. Plus, there's no need to eat them all right away. You can always stash them and save them for another time. Items within their online shop are also fresh and ready to eat upon their arrival should you choose to order individual snacks.
Taste
If you're someone who loves to try new snacks, MunchPak is sure to be an experience for you. With the opportunity to receive snacks from all over the world, you'll be able to try so many new things. While you can customize your box, it's really a great option for those who love to experiment and try new foods. It's sure to take you outside of your comfort zone and get you away from your usual go-to snacks.
Trying snacks from other countries is always an experience! The Hula Hoops Salt and Vinegar Crisps from the United Kingdom were a nice twist on the classic salt and vinegar chip. Since they don't have any artificial flavorings, colors, or MSG, you don't have to feel too guilty about indulging in them. Another great item for a mid-morning snack was the Oh My Goodness Appletastic Oat Bar. It's the perfect grab-and-go snack with apples, cinnamon, and golden raisins.
For sweet treats, the Walkers Shortbread Chocolate Chip Cookies were perfect for satisfying those sugar cravings. The Aero White Chocolate Bar was also a nice treat for any chocolate lovers, as well as the Cadbury chocolate treats.
For American treats, there were tons of great options to try. The Kathy Kaye Glazed Chocolately Vanilla Twist Flavor made for the perfect movie night snack. The Popcorners Smokin' Jalapeño White Cheddar chips were delicious, as were the "Dirty" Maui Onion Potato Chips.
If you like sour candies, you'll want to stock up on things like the Vidal Sour Green Apple Gummies, Warheads Smash Ups, the Alamo Candy Sour Chili Balls, or the Bebeto Sour Worms.
MunchPak Snack Scanner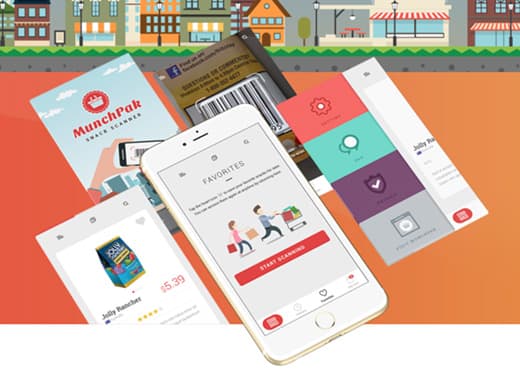 Another fun thing about MunchPak is that they have a barcode scanner app, known as the Snack Scanner. They realized their customers like to learn more about the snacks in their box before taking that first bite, which is why the decided to develop the app.
All you have to do is download the app to your Apple or Android device. Then, you can use the app to scan the barcode on the snack before eating it. The app then presents information all about the snack you're about to enjoy. This eliminates the need for MunchPak to create individual information cards for each item in your box, which would be quite time consuming. With a quick snap of the barcode, you'll be an expert in snacking.
You'll be able to learn about the taste of your snack and where it came from. Plus, if you enjoy it, you're able to easily make a purchase straight from the Snack Scanner app and even mark items as your favorite. This is a great way to get more of your favorites delivered straight to your door. There won't be any shortage of snacks in your home when they're so easily accessible with MunchPak.
Pricing
The final cost for your MunchPak will depend on how many snacks you'd like to receive, how often you want a new box to be delivered, and how many customizations you make to your order.
To receive five snacks per month, you're looking at a starting price of $12.95 for each box. For 10 snacks per box, pricing starts at $22.95 and it costs $42.95 for a box that contains 20 snacks. If you make any customizations to your box such as including or excluding certain types of snacks, there will be a $1 fee for each change you make. This means that if you want to add chewy snacks to your box, but skip crunchy snacks, you'll have to pay $2 total for those customizations. Then, adding coffee or tea to your box will increase your total by $5.
You will also have to pay an additional fee for expedited shipping or for international shipping. Standard shipping within the United States if free.
If you sign-up for a weekly subscription, you can expect to be charged every seven calendar days for your next box. With a bi-weekly subscription, your credit card will be charged every 14 calendar days. And if you've signed up for a monthly subscription, you will be charged th same day every month. For example, if you signed up for a subscription on July 8th, you will be charged on the eighth of every month from then on.
Don't forget that if there's something you really like, you can order more through the MunchPak online store. This makes it easy to stock up on your favorites whenever they're available. Most of the snacks in their store are $5 or below and you're able to order as many as you'd like. Simply search for your top treats or filter results based on type of snack, beverage, or country.
Final Thoughts
If you're feeling adventurous and would like to step outside your comfort zone when it comes to your snacking, consider signing up for MunchPak. Not only will you be able to try new things, but you'll get access to snacks from all around the world that you won't readily be able to get at your local grocery store.
Instead of eating the same old things all the time, MunchPak will shake up your afternoon snacks with their curated box of treats. Whether you want something salty or sweet or something to drink, they've got you covered with their subscription boxes. Plus, the addition of their handy Snack Scanner makes it easy to learn more about the items you receive. Before you know it, you'll have a kitchen filled with all kinds of fun treats from across the world. Everyone will be wanting to stop by your house for a snack!