When trying to eat healthy, one thing that always throws people off course is snacking. These days, so many of the grocery store snacks are unhealthy because they're loaded with preservatives, sugar, and other ingredients that aren't so ideal for your body. In some cases, you might think you're eating something that's good for you, but you could be terribly mistaken.
However, this doesn't mean you have to give up snacking entirely and you certainly don't have to settle for eating some bland snacks that you don't truly enjoy. Instead, you can turn to a food subscription like NatureBox.
NatureBox is dedicated to making snacking easier by providing convenient snacks that are healthy and also tasty. With so many types of snacks available, they make it pretty hard to decide what you'd like to receive in your box each month. Keep reading to learn more and to find out if it's the right subscription for you!
How to Join & Choose Your Items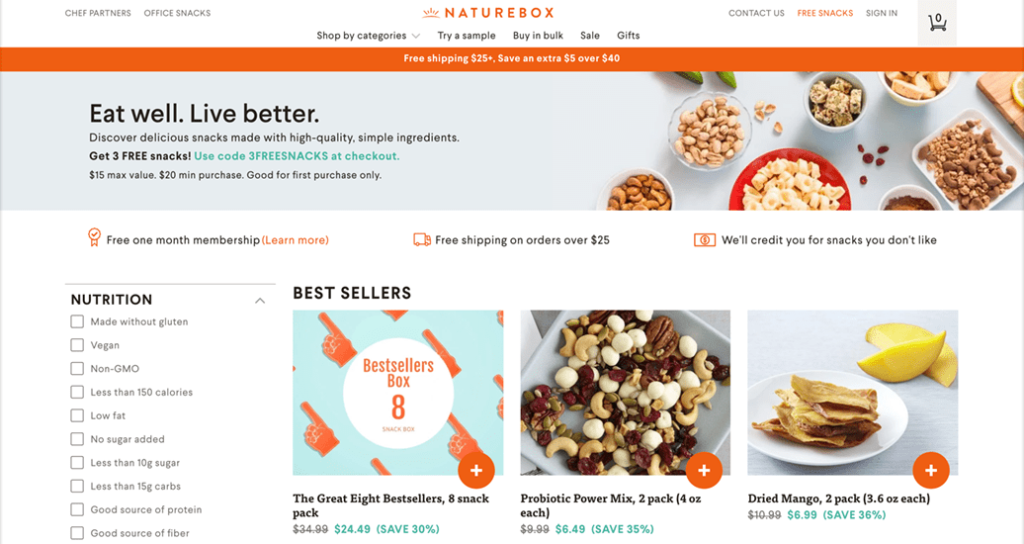 To get started with NatureBox, all you have to do is begin by checking out their catalog of available snacks. With so many options to choose from, you may want to filter snacks based on your dietary needs and preferences to find the best options for you. Once you find the snacks you'd like to munch on, all you have to do is add them to your shopping cart.
Once you've finished making your snack selections, navigate to your shopping cart and initiate the checkout process. You will be prompted to either sign into your account or create a new account during this time. You'll want to set up an account so you can review your order history, update information, and more in the future. Once you've added your shipping and billing information, you'll be good to submit your order. Then, all you have to do is wait for your snacks to arrive on your doorstep!
Types of Food They Offer
NatureBox is one of the many food subscription boxes available today that specializes in snacks. And it's safe to say they offer a lot of options for customers to choose from. There truly is something for everyone's tastebuds.
To find the right snacks for you, you can review the company's latest best sellers or filter foods based on your specific preferences. You can filter snacks based on the following options: gluten-free, vegan, non-GMO, less than 150 calories, low fat, no sugar added, less than 10 grams of sugar, less than 15 grams of carbs, good source of protein, good source of fiber, and low sodium. Once you've sorted the available snacks based on your needs, you'll see a list of what they have to offer.
There are a variety of snacks available, such as nuts, dried fruits, crackers, jerky, and more. To give you an idea of what you can expect to find in NatureBox's selection, some of their best selling snacks include: Dried Mango, Strawberry Greek Yogurt Pretzels, Vanilla Bean Wafers, Cinnamon Yogurt Mini Grahams, Sriracha Roasted Cashews, Mini Belgian Waffles, and Cheddar & Hatch Chile Crackers. Of course, the list goes on and on as there are a lot of snacks available for you to purchase. Whether you're craving something sweet or savory, there's something here for you.
All of the snacks they provide are made without artificial ingredients, high fructose corn syrup, or hydrogenated oils. They're dedicated to making snacking both delicious and healthy with the options they have available to customers.
Delivery
If you're interested in purchasing from NatureBox, you're likely wondering what their delivery area is. The company will send packages to all of the United States, United States territories, Canada, and to APO/FPO military addresses.
All orders over $25 that are being delivered to United States addresses will qualify for free shipping. However, addresses outside the continental United States (Alaska, Hawaii, Canada, and military addresses) will require a $4.95 USD charge for shipping. You can also choose expedited shipping at checkout. Orders under $25 will be able to choose two-day shipping for $15, while orders over $25 can be expedited for a cost of $10. Expedited orders are delivered via FedEx and is only available for street addresses and no P.O. Boxes.
Once an order has been placed, you can expect it to arrive on your doorstep within five to seven business days. A tracking number will be provided for your convenience so you will be able to track your delivery and anticipate its arrival. If your package is being delivered outside the continental United States (Alaska, Hawaii, Puerto Rico, US Virgin Island, Guam, American Samoa, Federated States of Micronesia, Marshall Islands, Northern Mariana Islands, or Palau), you can expect your order to arrive in 10 to 15 business days.
Because all packages are shipped via FedEx Smart Post, the final delivery is actually made by the United States Postal Service. You will not be required to be home at the time of delivery and you will not have to sign for anything. Your postal carrier will decide whether or not it's safe to leave your package. You can always let them know ahead of time it's fine for them to leave the package and specify a location for its drop-off.
Packaging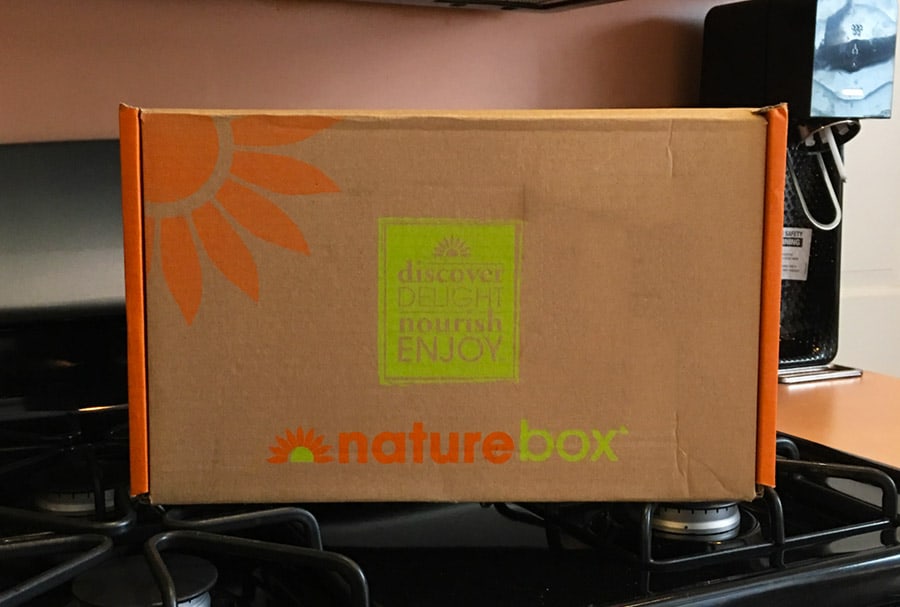 Because none of the snacks NatureBox provides need to be kept cold during delivery, you don't have to worry about dry ice or insulated packaging. And you also don't have to worry about anything spoiling while you're waiting for your delivery to reach its final destination.
Another great thing about NatureBox is that they have made their boxes are 100% recyclable. You can re-use your box in a variety of ways and the company even encourages you to check out ideas by using their #ReuseABox hashtag on Instagram. Feel free to get creative with how you reuse your box and share it with them!
The snack pouches they provide are not recyclable at this time though. You can, however, reuse them in any way you like because many of them are resealable. This means you're able to keep them and use them for storage in other ways if you choose to do so.
Freshness of Food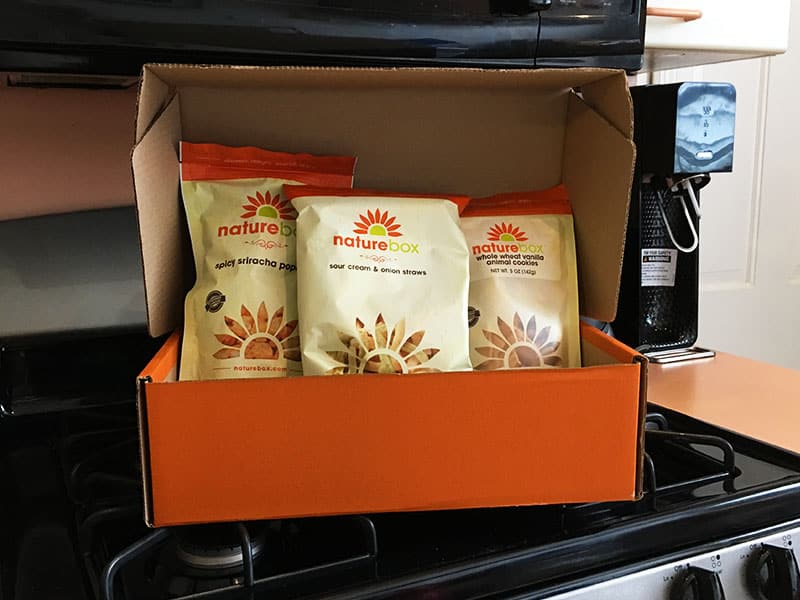 Everything that's contained inside your NatureBox delivery is guaranteed to be fresh. Each of their snacks is made with the best ingredients. As mentioned above, their food is made without artificial ingredients, high fructose corn syrup, or hydrogenated oils. This means you can enjoy these treats without all that guilt later on.
You can also view the ingredients for each of NatureBox's snacks in their snack catalog. You'll find a description of each item, nutrition information, and ingredients. The company partners with a variety of vendors to develop their snacks, most of which source their ingredients in the United States. However, some products do contain imported ingredients. No matter what, everything is promised to be high quality.
Each snack will have a clearly labeled "Best By" date on the back of its pouch, so you will always be able to enjoy your food before it expires.
Ease of Cooking (None Involved)
Not only are you getting delicious snacks to enjoy, you also don't have to worry about cooking anything in advance. Everything is ready to enjoy and can easily be taking with you while on-the-go. The only thing you'd need to cook would be the oatmeal they offer.
Taste
With so many options available, there's something for everyone to find and enjoy with NatureBox. Everything not only tastes great, but is satisfying to eat whether it's a mid-morning snack or an afternoon pick-me-up. Some favorite items include: Peanut Butter Nom Noms (perfect for anyone who loves the peanut butter and chocolate combination), Dried California Peaches (great for snacking on the go or for entertaining), Sweet Blueberry Almonds (good source of fiber and low in carbs), and Strawberry Lemonade Fruit Stars (perfect fruit snack without all the added sugar and preservatives store-bought ones typically have).
Pricing
There is a newer membership program that NatureBox currently offers. With this program, the $5 membership fee is waived for your first month with NatureBox. Every month after that, you will be charged a $5 fee on the same date. This program allows you to purchase as many NatureBox snacks as you would like and have them delivered as often as you'd like.
If you do not use your $5 credit within the month, it is applied to your account as a store credit and can be used toward the next order you place with NatureBox. Fees and store credits will expire after 12 months and they are also non-refundable.
You an also choose the old subscription plan. You are also able to edit your plan based on the number of snacks you'd like to receive per box and how frequently you would like to receive a delivery. You can choose three snacks per box for $13.95, five snacks for $19.95, or 10 snacks for $32.95. For delivery frequency, you can choose from once a week, every two weeks, or one a month. You can edit this whenever you like.
You can also cancel your NatureBox subscription at any time.
Final Thoughts
Overall, NatureBox is a great option for anyone looking for delicious snacks that they don't have to feel guilty about enjoying. Snacking can be both tasty and healthy when you choose the items NatureBox has to offer. The best part is that these snacks are so easy to take with you when you're on-the-go, so you never have to worry about settling for something that isn't nutritious.
What's even better is that they have a referral program that allows you to refer friends to NatureBox. When you do, you can earn credits that allow you to save on future boxes. If you try out NatureBox and enjoy it, be sure to spread the word!