One of the biggest benefits of ordering from a meal delivery service, meal kit, or simply just ordering food online is convenience. I'm always on the hunt for delicious food that's easy to make and to eat (preferably on the go).
So when I stumbled upon Proper Good Soups, I was interested. Could these soups be the perfect option for shelf-stable, ready-to-go meals? I decided to order and check it out…
What Is Proper Good?
Proper Good is a soup delivery company that sends shelf-stable soups nationwide. They focus on quality over quantity. Unlike going to the grocery store and staring at hundreds of different canned soups, Proper Good only offers 9 to 10 different soups to choose from at any given time. The soups they offer use organic and clean ingredients (more on their taste and ingredient quality below).
Proper Good Soups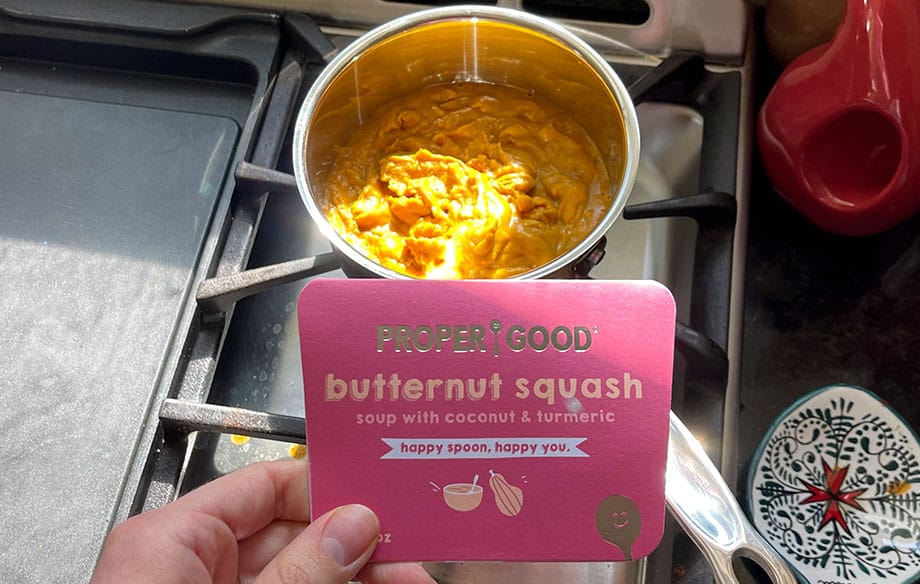 The current lineup of Proper Good Soups includes:
In addition to the above soups, they also offer a Spicy Seasoning that can be sprinkled on any soup to give it an extra "kick".
Ways You Can Order
One of the things I love about Proper Good is they give you a lot of different ways to actually make a purchase. You can order "a la carte" and add any soups to your box that you want. Ordering this way allows you to unlock extra benefits the more you add to your cart:
Spending $35 or more will unlock free shipping.
Spending $80 or more will unlock free shipping, 5% off, and a free mystery gift.
Spending $120 or more will unlock free shipping, 10% off, and a free mystery gift.
In addition to building your own box, they also have a nice mix of pre-selected soup bundles. For example, their Gluten-Free Mega Pack and their Dairy Free Mega Pack.
With any order, you can opt to have it sent once or subscribe. Subscriptions are sent every 1, 2, 4, or 6 weeks. One of the major perks of subscribing is receiving 15% off every order.
Or, if you don't want to order on their site, they also have an official Amazon store where they sell all the same soups. The big drawback of ordering there is that you can't unlock the same benefits as their own website.
Diets Proper Good Soups Cover
For soups, Proper Good covers a wide variety of different diets. As mentioned above, they have a lot of low-carb options—their bone broth options even hit 0 net carbs. This makes it perfect for those following the keto diet.
In addition, they also have soups that are gluten-free, plant-based, and dairy-free.
Food Box HQ Note: The gluten-free soups are not certified gluten-free so they may be cooked in a facility that also cooks foods with gluten. This is something to consider for those looking to ensure there is no cross-contamination.
Delivery, Packaging & Environmental Impact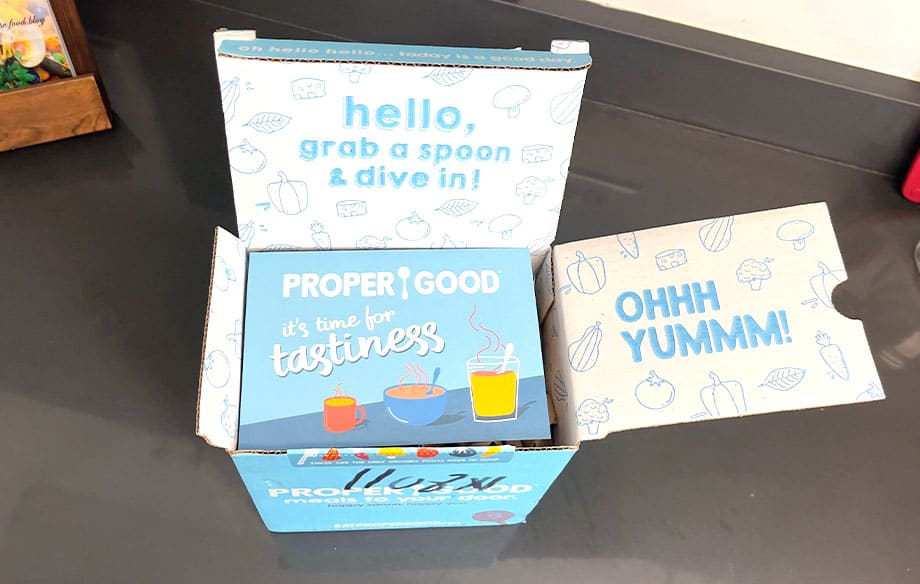 Proper Good ships boxes via USPS. In my experience, they've never taken longer than a week to get to my doorstep.
I generally never comment on the design of a package but Proper Good's is pretty unique and interesting. When you unbox, you'll see all these fun little sayings and designs. It's clear they put a lot of time and effort into the actual packaging, rather than just slapping their logo on a regular cardboard box and calling it a day.
Inside the box there is no insulation or added packaging, just the soups. This is a good and a bad thing. The good being that there is less waste created. The bad being that because it's just the soups packed tight together, it seems to me that it could be easier for them to be damaged in transit. It's never happened to me but it was a thought I had when first opening the box. Though they note in this blog post that the soup pouches are lightweight and flexible, making them efficient for shipping this way.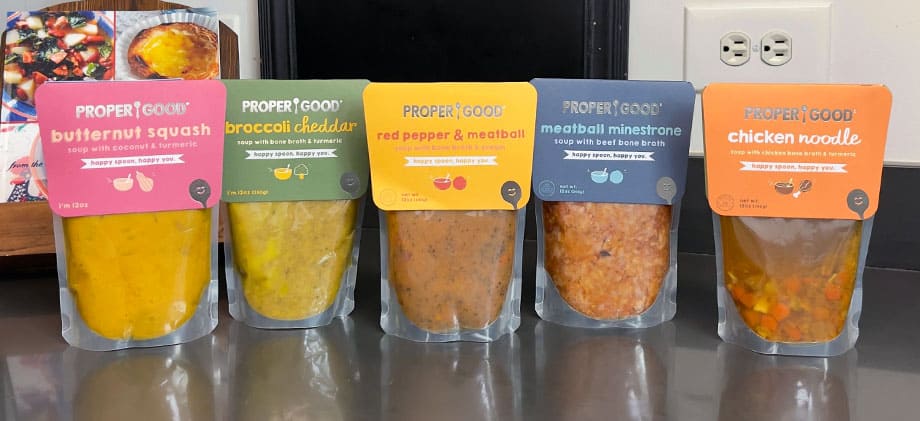 The soups are packaged air tight in a BPA-free plastic pouch. What I absolutely love, though, is the fact that Proper Good gives you a prepaid envelope to send back your plastic pouch to be recycled, if you cannot do so. This, along with the fact that there is already very little packaging to being with, easily makes them one of the most environmentally friendly meal delivery services we've ever reviewed.
Taste Test Of Our Recent Soups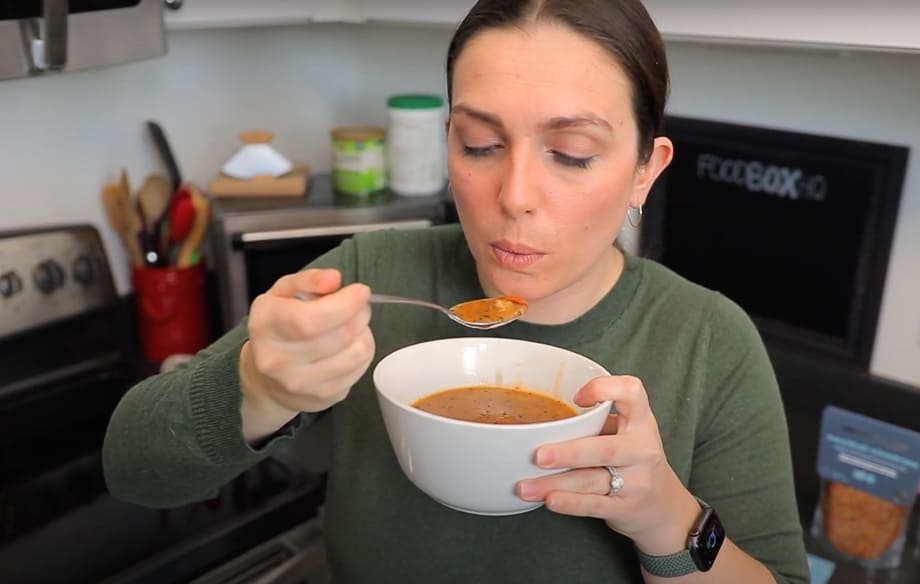 To put it as simply as possible, Proper Good really knows how to make a delicious soup. All of these soups were not only full of flavor but had just the right consistency too.
Have you ever had a soup and it was either too creamy, too light, or too thick? Proper Good nails it with every soup they offer—not too thick, not too creamy, just the right consistency and texture for a soul-warming soup.
Chicken Noodle: Since chicken noodle is one of my all-time favorite soups, I had high hopes and Proper Good delivered. The soup was hearty without being overly loaded with chicken and veggies. But the best part was the noodles were cooked perfectly and stayed firm/together. I'm used to noodles in prepackaged soups to be overcooked and fall apart in my spoon.
Red Pepper & Meatball: This soup was thick and creamy without being too much. Due to the added mini meatballs, I would say it was the most filling out of all the soups we had in this box. The seasoning had just the right amount of kick to give it a nice added flavor without being overpowering.
Broccoli Cheddar: I've never had a broccoli cheddar soup before and this one did not disappoint. It ended up becoming one of my personal favorites. With the amount of rich flavor it had, it really surprised me to see it only has 6 net carbs. This would be a great meal option if Emily and I ever pick-up keto again.
Butternut Squash: You know how taste and smell can transport you back to old memories? One sniff of this soup as it was heating up and it instantly brought me back to the Fall season. It was full of flavor while being perfectly smooth and creamy. The best part is it's fully plant-based and gluten-free.
Meatball Minestrone: This was another personal favorite and home run by Proper Good in terms of flavor. It's hearty, filling, tasty, as well as loaded with protein and veggies.
Quality Of Soups — Proper Good vs. Canned Soup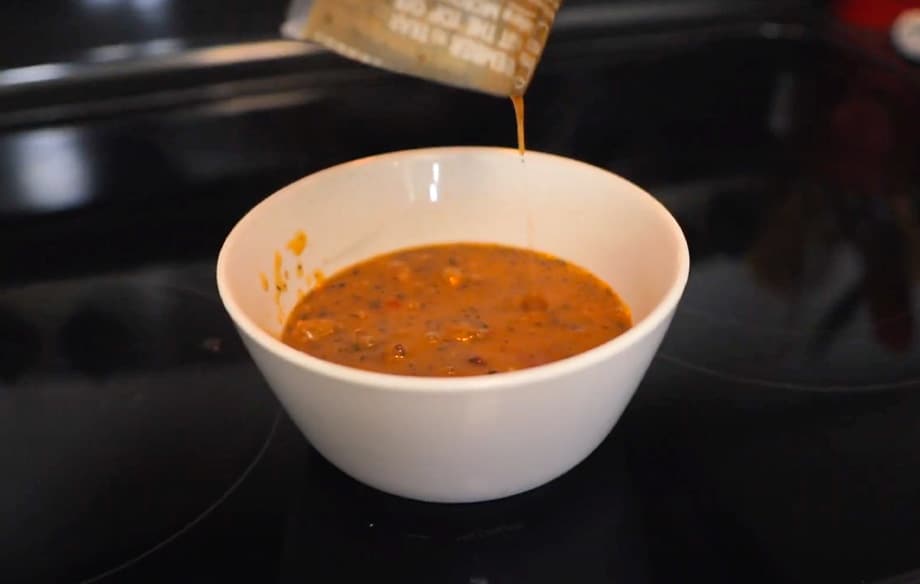 One of the biggest complaints I've had with canned grocery store soups are, while they can taste good, many have random ingredients. Plus, so many canned soups are loaded with sodium. So much so that I usually feel extremely bloated and "water logged" for the rest of the day.
To give you an example, let's take a look at the ingredients in Proper Good's Chicken Noodle soup versus Campbell's Chicken Noodle soup:
Proper Good Chicken Noodle Soup Ingredients:
Chicken bone broth
Vegetable broth
Carrots
Onions
Chicken
Celery
Egg noodles
Gelatin
Garlic
Sea salt
Organic parsley
Black pepper
Organic ginger
Organic oregano
Turmeric
Campbell's Chicken Noodle Soup Ingredients:
Chicken stock
Enriched egg noodles
Chicken meat
Salt
Chicken fat
Monosodium glutamate
Cornstarch
Modified food starch
Dehydrated chicken broth
Cane sugar
Flavoring
Beta carotene for color
Dehydrated onions
Yeast extract
Soy protein isolate
Sodium phosphate
Dehydrated chicken
Onion extract
Garlic extract
I'm sure based on just listing the ingredients, you can tell which one is better…
One of the oddest parts of researching for this review was seeing just how many canned soup companies add in sugar to their soups. Thankfully, none of the soups Proper Good cooks have added sugars, only the small amount of natural sugars that would be found in the vegetables they use.
When it comes to sodium, soups are generally notorious for having a lot. In fact, using the Campbell's Chicken Noodle soup example, one serving (1/2 cup) has a 890 mg of sodium, about 39% of your daily value. The Proper Good Chicken Noodle soup has 560 mg of sodium. So it's not super low-sodium by any means but it has a substantially lower amount than some canned versions.
Pricing
Proper Good keeps all of their individual soups the same price at $6.99 each. The heartier soups such as Chicken & Mushroom, Sweet Red Pepper & Meatball, and Broccoli Cheddar soups are $7.99.
They also give pretty good discounts on all of their bulk packs. For example, their Keto Mega Pack has 12 soups and is priced at $93.99. If you were to buy everything individually (the 4 Red Pepper & Meatball, 4 Chicken & Mushroom, and 4 Broccoli Cheddar) it would be $95.88 ($7.99 x 12 soups). Plus, since it's over $80, at checkout they take off an additional 5% (and give free shipping along with a mystery gift).
Proper Good Promo & Coupon Codes
Proper Good has one of the best "refer a friend" style programs I've seen. With this link you can claim 20% off of your first order immediately (FYI, we will also receive referral commission). They also have the following coupons:
Coupon code "BUDDY15" will get you 15% off
Coupon code "KETOGENIC15" will get you 15% off
Coupon code "YAY20" will get you 20% off
I like to include multiple coupon codes just in case any don't work or are expired, there's always a backup option.
Proper Good Pros & Cons
Now that we've gone over Proper Good in detail, let's talk about some of the things I love about their service and what I don't…
Proper Good Pros
These soups are really delicious and use high quality ingredients. The flavor and taste sit somewhere between homestyle and restaurant-quality.
They offer a very good money-back guarantee. If you don't like any of the soups within 30 days of receiving your box, they'll refund you (no questions asked).
I love that they fit into a lot of different diet types. They have soups that fit into a lot of the popular diets—keto, low-carb, plant-based, gluten-free, and more.
The soups last a long time. Since all of their soups are shelf-stable, there's no need to refrigerate them. From my experience, they'll last 4+ months in your pantry (but it really depends on when you receive them compared to when they were cooked).
They're one of the most environmentally friendly meal delivery services. I love the fact that they give you a prepaid envelope to send back your plastic pouch if you cannot recycle it. It really shows that they actually care about their environmental impact.
Proper Good Cons
The sodium content could be a little high for some. While definitely not as high as some of the major canned versions, in my opinion, they could be on the higher side for some.
They only have around 9 to 10 soups to choose from at any given time. I hope in the future they expand upon their current selection and offer more seasonal/limited releases like their Pumpkin Spice soup.
Final Thoughts: Who Is Proper Good Right For?
If you enjoy soup, Proper Good is a no-brainer to try. From our initial box of soups, I could tell that they understand how to create delicious soups. And not only that, they understand how to keep customers happy. There are a ton of perks for ordering such as free shipping, free gifts, and discounts. Plus, bulk orders and subscriptions get an even deeper discount.
Even if you're not a soup person, these soups are great to just stock up on in your pantry for an emergency meal. Within the last week, Emily and I both worked late and instead of cooking at 9pm, we decided to just heat up 2 Proper Good soups for dinner. A delicious meal without the work and without breaking the bank—how can you beat that?
Overall, I'd say Proper Good Soups have been some of the best soups I've ever had. And yes, that even includes my grandmothers homemade recipes!
Have a question about Proper Good Soups I didn't answer? Leave your comment below and I'll get back to you as soon as possible!