Are you in search of an easier way to stick to your ketogenic diet? Or perhaps you're interested in trying out a ketogenic diet for the first time? Either way, there are a few meal delivery services on the market that are designed to make it simpler for you. There are options that provide you with ingredients and a recipe so you can prepare the meal yourself. And there are services that deliver pre-made meals to your door and some that are just committed to healthy snacking.
No matter what you're looking for, these services provide you with high-quality foods so you can feel confident in what you're eating and know that you're abiding by your diet's rules. The best part is that you don't have to get sucked into a food rut or give up your favorite dishes. They each provide plenty of options for you to choose from.
These services are dedicated to using the top-notch ingredients and providing you with dishes or snacks that are high in fat, moderate in protein, and low in carbohydrates. No longer will you have to plan out your meals and do the grocery shopping every week when you have delicious items delivered straight to you. They've eliminated the stress of meal planning so you don't have to worry about it.
If you're interested in trying out a keto meal delivery service, we have rounded-up eight of the top options that are currently on the market. Check out these options and select the one that's best for you. You'll receive a delivery of delicious food in no time at all!
*This post has been updated as of August 2019 to reflect the best keto meals you can order online.
1. Sun Basket
Sun Basket is one of the more popular meal delivery kits around due to how versatile their meal plans are and how delicious their food tastes. While they don't have a specific "keto" meal kit, they do have a great "Lean & Clean" option. We've used Sun Basket in the past when we went keto and had little time to search for recipes, buy all the right ingredients, and cook. It was a huge time saver. Their paleo plan has meals that are high in protein and high in good-fats. All of the meals we had on this plan were low-carb as well so I'm surprised why they don't call this one their "keto plan" in addition to paleo. The best part of Sun Basket is that they actually tell you exact numbers when it comes to carbs, protein, calories, etc. This is something that not all meal kits do.
Click the button below for $35 coupon/promo off your order.
2. Keto Delivered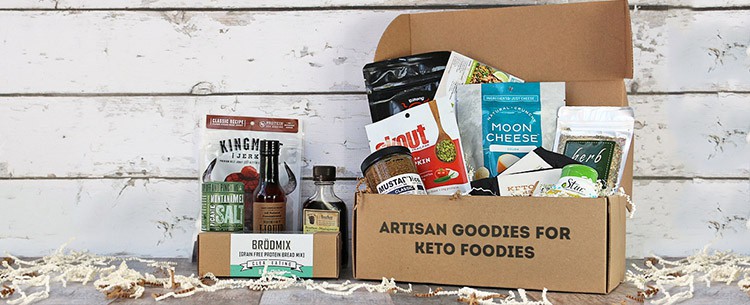 Keto Delivered was founded by Craig Clarke and Katie Jaeger. These two co-founders were inspired to create this food service due to their own transformations they've made with their health and bodies, all thanks to following a ketogenic diet. In fact, Craig has followed a ketogenic diet for over six years and has seen a weight loss of over 80 pounds due to making better choices with his food. Katie's journey is equally as impressive, as she was able to drop 130 pounds total.
Now, these two are helping others get on the ketogenic train by delivering products to your doorstep every single month. It's an opportunity to discover new products and amazing recipes that will inspire you to get in the kitchen and start cooking. After all, these two are passionate about food and they don't want want anyone to feel limited when sticking to a set diet.
Inside your box each month, you'll find five to seven ketogenic diet friendly foods, which have been carefully curated for your enjoyment. These foods come from artisans, farmer's markets, and small batch foods. It's your chance to try something new and also support small businesses. All of the selected items are keto-friendly and low in carbohydrates. You might find cooking-related products (spices, herbs, and condiments), beverages (coffee, tea or other beverage enhancers), or snacks (jerky and nuts).
3. Quest Keto
*Quest Keto has been shut down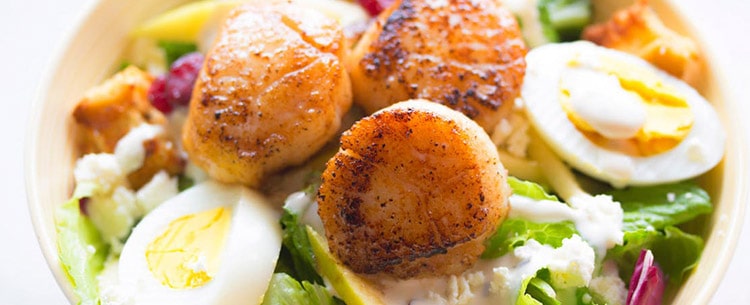 If you're looking for pre-made meals that are suitable for a ketogenic diet, Quest Keto is one option to consider. These meals are prepared in a safe facility and are made with quality ingredients without the use of preservatives. Everything is high in fat, adequate in protein, and low in carbohydrates to ensure it fits the needs of your diet.
After they've been prepared, the meals are frozen and sent to your door. When you're ready to chow down on one, all you have to do is heat it up. Re-heating instructions are included on every package, but it truly is as simple as popping it into the microwave. This means you'll have a keto-friendly dish in no time at all, so there's no excuse to skip a meal or eat something unhealthy. The best part is they even have options for breakfast, lunch, dinner, and snack so you can easily follow a ketogenic diet.
4. Keto Krate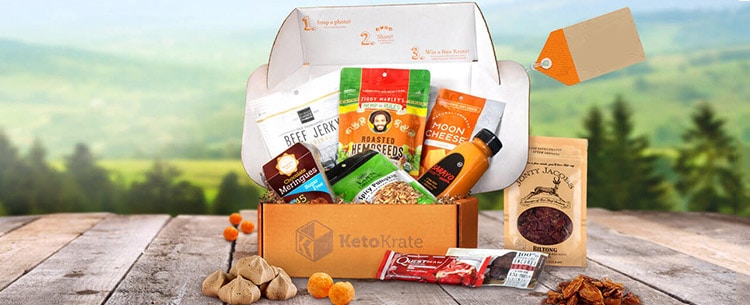 If you're a big snacker and need to have a delicious and healthy snack on hand at all times, Keto Krate completely understands your needs. While many meal delivery services focus on providing you with a full meal, Keto Krate is actually dedicated to providing you with a box of snacks every single month. This ensures you always have something ketogenic-friendly to snack on, no matter what time of day it is.
They hand-select some of the best snacks from all over the world, package them up, and ship them directly to you. It saves you the time and hassle of having to find suitable snacks and purchase them yourself. All of the items you'll find in the Keto Krate box are low carb (5g of net carbs per serving or less), gluten-free, and maltitol free. They also choose snacks that are free of aspartame and conscious of soy and sucralose. This means that soy and sucralose will never be high up on the ingredients list in the snacks you receive. With six to eight snacks in your box every month, you'll have some great options to munch on throughout the day.
5. Green Chef
Green Chef is one of the few meal kits out there that specifically does have a keto meal plan. One of the things we love most about about their box is that they're committed to using fresh, organic ingredients so you can be sure you always have wholesome meals to put on the table for you to enjoy.
They provide new recipes every week for you to choose from, which allows you to select exactly the meals you want to prepare in your home. You also have the ability to choose a two-person plan or a family plan that's designed for a family of four people. Every ingredient is responsibly sourced and certified organic. You can feel confident that your meals are free from synthetic pesticides, GMOs, artificial ingredients, growth hormones, and antibiotics. All you have to do is cook up the fresh ingredients according to the recipe and enjoy.
6. Factor_ Meals
Another company that delivers pre-made ketogenic-friendly meals straight to your doorstep is Factor 75. These meals are nutritious and made with fresh, organic ingredients. You can count on everything being hormone and antibiotic-free, gluten-free, soy-free, and free of GMOs. Everything is also pasture-raised, grass-fed, and preservative-free. You won't have to worry about the quality of the ingredients used in these dinners when you know they've chosen only the best.
Once you've received your meals and you're ready to enjoy one, you simply need to heat it up. Within minutes, you'll have a fresh, delicious dinner on the table for you to enjoy. They also provide plenty of options for you too chose from, including: a taco bowl, a cheese stuffed bacon burger, and a grilled chicken bowl. You'll even find a couple breakfast options like blueberry pancakes and muffins.
The price varies depending on how many meals you receive each week. The cheapest option is four meals, which comes in at $60. This costs approximately $15 per meal.
7. Ketoned Bodies
*Ketoned Bodies has been shut down and many users have submitted complaints regarding their service. From what we can tell, the owner is selling the business.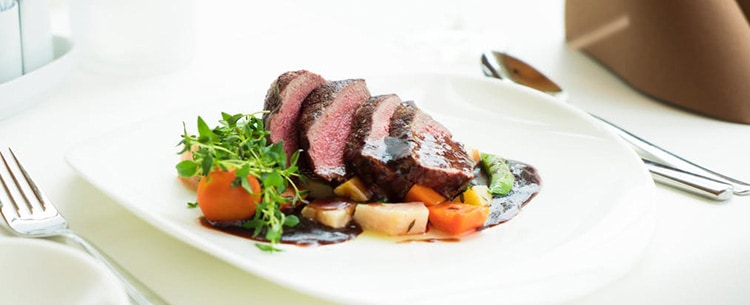 One of the selling points for Ketoned Bodies is that you can choose the meals you want to receive or you can work with one of their nutritionists to create a custom ketogenic meal plan. This is something not many services offer, but many customers may want to take advantage of it. It's a great way to ensure you're picking the dishes that are right for you.
Ketoned Bodies is committed to using high-quality ingredients for all of their meals as well. They're careful in making sure everything is clean and healthy. Their dishes contain 100% grass-fed beef and 100% pasture-raised eggs, poultry, and pork. They refuse to use meats from factory-farmed, grain-fed animals, so there's never any question about where the animal protein in their meals came from.
When ordering from them, you can expect to find an array of delicious meals to choose from, which includes items suitable for both breakfast, lunch, and dinner. Some of the dishes on the menu include: White Pizza Frittata, Sausage Breakfast Casserole, Cajun Shrimp and Zucchini Alfredo, Zero Carb Breaded Chicken and Broccoli and Cheese, Pasta-Less Lasagna, Flat-Iron Steak, and Real Texas Chili. With options like these, they've made it easy to stick to a ketogenic diet because you're sure to find something you'll like!
8. Trifecta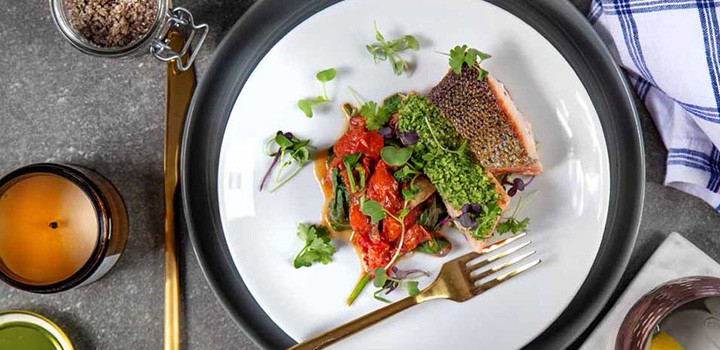 Trifecta is best known for providing pre-made (never frozen) organic meal kits for athletes counting macros. However, they now have a keto meal plan. What we love about Trifecta is the fact that they give you the ability to truly customize your order. Unlike other meal kits, you can choose if you want breakfast, lunch, and/or dinner. You can have one, two, or all three. They also allow you to choose how many meals per week you'd like to get.
Here's a list of some of the scrumptious pre-made meals they offer: Beanless Chili Con Carne, Meatloaf & Mashed Cauliflower, Asian-Style Turkey Meatballs, Crustless Quiche.
Although this is one of the newer keto meal delivery services around, we're very impressed!
Honorary Mention: Keto & Co.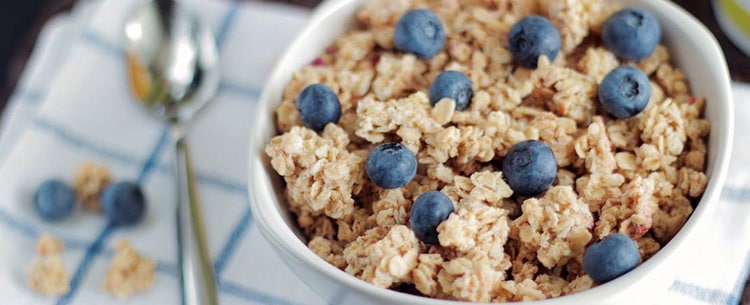 Maybe you don't need a full meal delivered and you'd rather pick out your food à la carte. Keto & Co. might be the perfect option for you. They have a huge selection of keto food, meals, and even just snacks. You can even filter your keto food search by organic, vegan, vegetarian, and more. Prices range on this site but they aren't too expensive for what you're getting. The best part is that they offer free shipping for orders that are $50 or more.
Benefits of Using a Keto Meal Delivery Service
So you've read our list of keto-friendly meal delivery services but you're not sure if it's right for you. That's okay! These meal delivery services are right for some people and not others. We're here to help you make the right decision.
Let's go over the benefits of using a keto meal kit so you can see if it's in line with what you're looking to get out of it…
Ability to Stick to Keto Without the Hassle of Guessing Macros
Has your biggest struggle with the keto diet been trying to figure out your macros? Counting the fat, protein, and carbohydrates in every single one of your meals can be a little overwhelming and time-consuming. Ultimately, it could deter you from sticking to keto-friendly meals for the long haul. Luckily, using a meal delivery service can help eliminate that hassle!
There are companies, such as Trifecta, that provide meals to help you hit your macronutrient goals through lean protein, complex carbs, and veggies in every dinner. This is great for anyone who wants to be conscious of their macro intake, but finds it too stressful to calculate everything themselves. This provides balanced meals without any additional effort from you.
Perfectly Portioned to Avoid Overeating or Under-Eating
Following any kind of diet can be a little stressful and involve a lot of planning. What should I eat? When should I eat? And how much am I supposed to be eating at each meal? There's a lot to figure out if you want to ensure you're feeding your body properly and getting in all the essential nutrients.
Luckily, using a keto meal delivery service will help eliminate some of that stress and take care of all the planning for you. They're especially great for keeping you on track when it comes to portion sizes. All of the meals you'll receive will be perfectly portioned so you don't have to worry about overeating or under-eating. You'll get exactly what your body needs to stay in ketosis.
Factoring in Time, It's More Budget-Friendly Than Making it Yourself or Eating Out
One of the things that holds people back in signing up for a meal delivery service is that they're worried about the cost. While some of the meal delivery services on this list might seem high in price, you have to think about where you're saving in terms of both money and time.
These services are either providing you with pre-made meals or fresh ingredients to cook the meal yourself. It all depends which one you go for. Either way, it's going to cut down on the amount of food you'll have to purchase at the grocery store each week since your dinners are going to be taken care of for you. This can help save money because you often have to buy more of one ingredient than you need for a recipe. And then, sometimes you have food that goes to waste and has to be thrown out.
Any of the meal kits on this list are going to help you cut down on food waste, thus saving money in the long-run. Plus, you're  going to be saving time, which is the one thing we can never get back. You can cut down on trips to the grocery store and the time you spend there. And you can cut down on the amount of time you spend in the kitchen because it won't take as long to put a meal on the table. This will free you up to do other things you may find more important.
It Provides the Opportunity to Try Unique Keto Meals
We're all guilty of getting stuck in a rut when it comes to food. When we find something we like and that's also easy to make, we fall into the trap of making it over and over again. And the reality is, that gets boring after a while! We need a little variety in our lives when it comes to the meals we make.
Instead of scouring the web for new recipes to try, you can use a keto meal delivery service to provide you with unique dishes to taste. This way, you aren't always repeating the same recipes and you'll get to try new things that you probably wouldn't have made otherwise. It expands your palate as an eater and can step-up your cooking skills in the process when you learn how new flavors work together.
For instance, Green Chef has a keto-friendly meal plan with a menu that rotates each week. This way, you'll never get bored because you'll have access to plenty of variety. Dishes like Chicken With Alfredo Sauce, Steaks with Blue Cheese Sauce, and Cumin-Roasted Pork Chops will make going keto easy and delicious.
What to Consider When Choosing a Keto Delivery Service
When putting together this list of keto-friendly meal delivery services, we wanted to approach it as methodically as possibly. When putting together our initial list, we used the questions/points below to find our favorites.
If you're thinking about trying a keto delivery service, you can use these points to make the most informed decision possible.
Do They Have a Keto-Friendly Plan or Just a Low-Carb Plan?
Some people want to stick to a keto diet in order to be in ketosis while others are looking to use it to simply lose weight. If you are someone who wants to stay in ketosis, look for meal kits that have a ket-specific plan. However, if you're someone who's looking to lose weight using keto, you could possibly get away with a meal kit that has a low-carb plan. Do your research and see what kind of ingredients are included in each meal and look at at the nutrition facts as well. It may not be easy, but it's worth it if you want to stay keto. It's important to know what you're putting into your body before you commit to a purchase.
Variety of Keto Meals Offered
Variety is definitely important to consider because no one wants to get into a food rut eating the same exact meals day after day. You should change it up and experience new flavor combinations to keep it interesting and exciting! This way, you'll actually look forward to keto rather than dreading the meals.
Once you've found some keto delivery services you'd like to try out, take a look at their menu. Do they have a ton of options to choose from or only a few? Which ones have piqued your interest? After all, if they don't taste great, you won't eat them! Your best bet is to go for a company that offers a rotating menu with a lot of options so there's always variety available to you.
Quality of Ingredients
Next, take a look at the quality of the ingredients in the meals you'll be receiving. You want to make sure you're getting fresh, nutrient-rich ingredients. You don't want loads of sugar or other weird ingredients lingering in your dinners because it eliminates the health benefits they can provide and can prevent you from going into ketosis. Instead, look for organic ingredients, lean proteins, and healthy fats.
Overall Cost of the Meals
Of course, you'll also want to consider the cost when choosing a keto delivery service. You want to make sure you're getting great value for the money you're spending without breaking the bank. But the thing is, you don't just want to look at the subscription cost of the service on a weekly basis.
You really want to look at the cost per serving for each meal. For instance, if you sign-up to a keto meal plan with Green Chef, you'll be paying about $11.99 per meal. It might sound high initially, but when you consider the high-quality, organic ingredients that go into each dinner you cook, it becomes pretty reasonable. Also, when compared to similar general meal delivery services like Blue Apron and HelloFresh, it's only around $1 more per meal.
Also think about all the times you've thrown out ingredients for meals because they spoiled before you were able to use everything. That's money you're throwing right into the trash. Using a meal service is going to help eliminate food waste and help you get more for your money.
Reliability of Service
Before you push that "buy" button, it's worth it to read a few reviews from customers who have actually used the service before. It's nice knowing that other people have had a great experience so you can feel confident in your own purchase.
Take some time to look through reviews for the keto delivery service options you have in mind. Are customers happy with the quality of the product they're being provided? Or have there been a lot of complaints? You also want to consider if the orders are arriving on time and if they're still frozen upon landing on the customer's doorstep. Are the meals easy to make? And do they even taste good?
Do your research before making a commitment so you're more likely to sign-up for a great service that's going to deliver high-quality with each box you receive. It might seem time-consuming, but it's so worth it in the end.
We have a full list of in-depth reviews on keto-specific meal kits, snack boxes, and more here.
Are the Meals Pre-Made or Do They Need to be Made?
Lastly, you'll want to consider how the meals are going to arrive. Many keto delivery services will provide you with pre-portioned ingredients and a recipe so you can whip up the meal yourself in your own kitchen (for example, Green Chef). This is obviously going to take a little bit of time since you will have to actually cook the meal. Many of these services take about thirty minutes to one hour to prepare a meal.
However, it's still going to be a time-saver since you won't have to wash veggies, chop, and measure ingredients on your own. All of that prep work has already been taken care of for you. It's perfectly portioned for your meal and you simply need to start cooking.
There are some services which will deliver already-made meals (for example, Trifecta). This is fast and easy since you'll just need to grab the dinner out of the fridge and heat it in the microwave or oven There's no need to get out your pots and pans or create more dirty dishes for yourself.