Where do so many people go wrong when trying to stick to a healthy diet? Well, in many cases it's because they give into the temptation of sugary snacks whenever hunger strikes. You might be doing well sticking to your meal kit that features nutrient-rich recipes for breakfast, lunch, and dinner. But when the afternoon cravings hit and you reach for cookies or greasy potato chips, sometimes you feel instant regret afterwards.
While there's nothing wrong with treating yourself every once in a while, you don't want to undo your progress with the wrong snacks! Instead, you need something that's totally guilt-free. You want snacks that are packed with protein and are low in calories, sugar, and carbs.
So, where do you find these elusive snacks? We're reviewing Youtopia Snacks to find out if they make the cut!
Youtopia Snacks offers a subscription service for people who are looking for healthy, yet delicious, treats to munch on throughout the day. It's perfect for individuals and offices alike. So, if you're looking for a way to satisfy your cravings, it could be worth checking out.
Here's everything you need to know before trying it yourself...
How to Join & Choose Your Items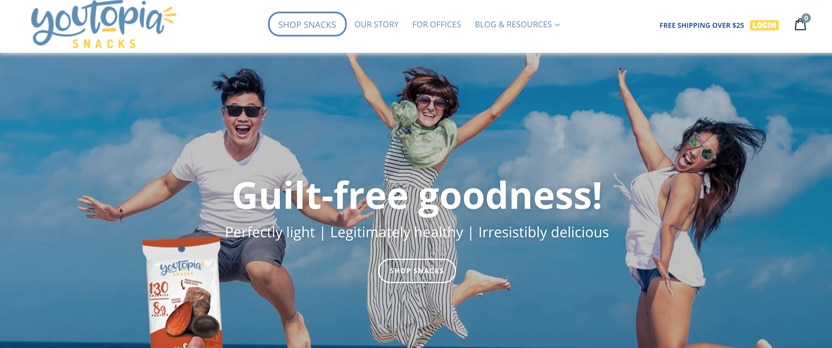 Getting started with Youtopia Snacks is pretty straight-forward. The hardest thing you'll have to do is decide which snack you want to order (or if you want to try them all). You can choose between one of three flavors or go with the variety pack to sample each one.
Then, you're prompted to choose between a 10-pack, 30-pack, or 60-pack. Which one you go with really depends on how much snacking you're planning to do. If you want one pack to get you through every day of the month, the 30-pack is going to be perfect! From there, you just need to choose your delivery frequency. They offer deliveries every two weeks, four weeks, or eight weeks.
But don't worry, you can always do a one-time purchase if you're not ready to commit! However, if you decide you love Youtopia Snacks and want regular deliveries, signing up a subscription is the way to go because it'll save you some cash with each order. In fact, the subscription gets you 10%, which is always nice to keep a little extra cash in your pocket.
Right now, you aren't able to customize your box. You're only able to choose between one flavor or doing the variety pack. However, Youtopia Snacks is looking to make customizations possible in the future.
Types of Food They Offer
If you're feeling adventurous and want to get a taste of what Youtopia Snacks has to offer, they provide a variety pack just for this. It gives you the opportunity to taste all of their offerings so you can see which ones are your favorite. Inside this variety pack, you'll receive Bananas for Chocolate, Espresso Obsesso, and So Money Honey Mustard.
Espresso Obsesso is perfect for all the coffee lovers out there. It contains roasted almonds, organic dark chocolate espresso beans, and mocha espresso cookie puffs. This one is just the right amount of chocolate to satisfy your sweet tooth, but that extra kick of coffee flavor makes it that much better.
Their final flavor is So Money Honey Mustard. An awesome name deserves awesome taste, right? This one includes roasted almonds, honey mustard jalapeño sticks, and southwest fava crisps. It's full of flavor and a little spice with that jalapeño! So if you like a little "kick" with your snacks, this is the one for you.
The great thing about these snacks is that they're all portion-controlled. You don't have to worry about over-eating, which is often the case when you have a large back of chips at your disposal. Everything is also high in protein, low sugar, low calorie, gluten-free, and non-GMO. The So Money Honey Mustard snack is also dairy-free. Each one will satisfy your hunger and tide you over until it's meal time. Plus, they're the perfect pick-me-up during those busy afternoons. There's no more excuses for eating unhealthy snacks when you have these!
Delivery
If your mouth is watering at the thought of having these snacks delivered to your door, the good news is that Youtopia Snacks ships all over the United States. They can even deliver to your P.O. Box if you want since none of the snacks require refrigeration.
The team does their best to ship out in-stock orders by the next business day. And once your order ships, it should make its arrival within two to five business days. You will receive a shipping confirmation email, which will provide you with tracking details so you'll know exactly when it's going to arrive. The only down side is that you have to spend at least $25 to get free shipping. However, if you have Amazon Prime, you can order their snacks directly from Amazon and not have to pay shipping fees!
Packaging
Nothing needs to be refrigerated in your Youtopia Snacks order, which means you don't have to worry about the mess of insulated packaging or ice packs. Everything will arrive packed neatly in a cardboard box, which can be recycled.
Freshness of Food
Since these snacks don't need to be kept cold during transportation, you don't have to worry about anything spoiling before it arrives at your home or office. Plus, these snacks are shelf-stable for a long time so no need to worry about when they'll go bad. Of course, don't stash them away and eat them years from now!
Taste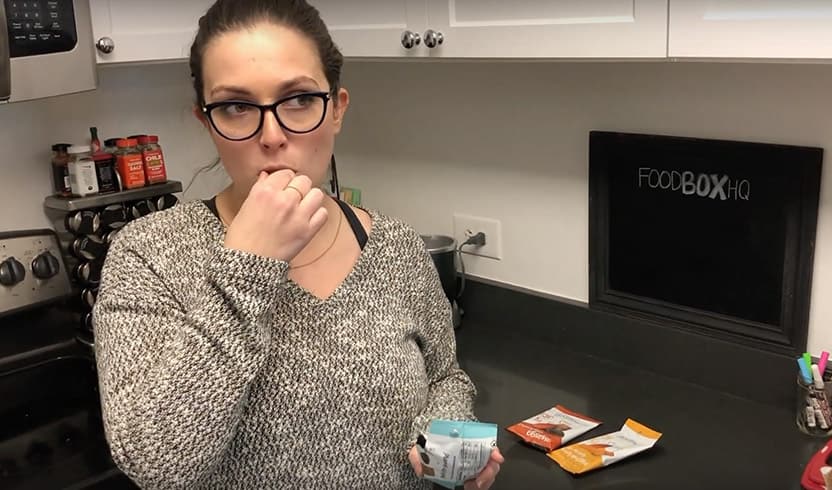 It's probably best not to play favorites, but that's impossible when you have a snack like Bananas for Chocolate. This one tastes so good that you'll actually forget you're eating something that's not loaded with tons of sugars!
The mocha espresso cookie puffs are so tasty, while the organic dark chocolate sunflower seeds provide a nice extra crunch to this mix of snacks. Both satisfy your sweet tooth, while the organic banana chips make you feel good for getting in some fruit.
While it won't give you as much of a caffeine kick of a regular cup of "Joe", Espresso Obsesso is still perfect for coffee lovers. The combination of the coffee and chocolate is absolutely perfect, especially with the roasted almonds. You're going to love the organic dark chocolate espresso beans, as well as the mocha espresso cookie puffs. Since it has a bit of caffeine, it's safe to say this is an afternoon go-to when you're hitting that energy slump! And in case you're curious, this one has about 20-40mg of caffeine, while a cup of coffee typically has 100-200mg.
Pricing
So, how much will these Youtopia Snacks set you back? A 10-pack of any flavor or the variety selection will cost you $27.95 if you opt to do a one-time purchase. However, you can save 10% if you go for the subscription (only available on their website), which is definitely a win if you want to receive regular deliveries. With the subscription, a 10-pack will cost $25.16. Signing up for a subscription with a 30-pack will be $71.96 and the 60-pack subscription is $137.66. And do keep in mind that shipping is free only when your order costs over $25.
Final Thoughts
If you're searching for your next snack obsession, Youtopia Snacks is definitely worth checking out! While their selection isn't huge, they offer three really delicious flavors that we loved. Not only that, but these are snacks you can feel good about eating. You don't have to worry about going overboard with indulging since they're already portion-controlled. Plus, they're high in protein, low in sugar, low calorie, and non-GMO. You can't say that about all those sugary grocery store snacks!
These are perfect to order for yourself and pack in your lunch or even take in your handbag for a day out on the town. Or if you have little kids and want to pack a better snack for them, Youtopia could be a great option.
Have you tried Youtopia Snacks before? Let us know your thoughts in the comments below!