When it comes to meal delivery services, it's safe to say that Sun Basket and Hello Fresh are two of the biggest names in the same. Both provide a fantastic service and delicious foods to their customers. So, how are you to choose when either one is a great option?
Well, it all comes down to the specific type of food you're looking for. And of course, you'll also want to look at the cost to see which one best fits your budget. To help you make the right decision, we're comparing the two so you'll see what each company is all about and be able to make a well-informed decision.
Variety of Food & Meal Plans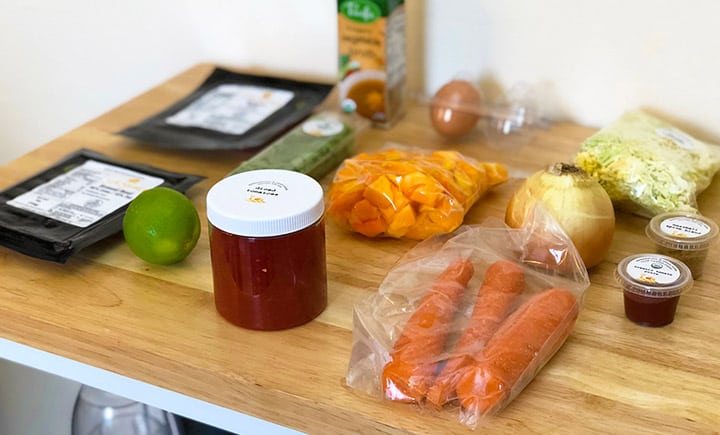 Looking for a lot of choices in the meal kit you go with? Variety can be important if you need to stick to specific meal plans or you want to try some new dishes.
Sun Basket
If eating clean is important to you, Sun Basket may be your best option. They pride themselves on delivering organic produce, responsibly sourced meats and seafood, and plenty of healthy, delicious recipes.
They source fresh, seasonal produce from some of the best farms around the country. Everything is 99% organic and 100% non-GMO. Sun Basket also uses antibiotic-free and hormone-free meats, as well as wild caught fish that has been sustainably sourced. For many people, like me, knowing where their food comes from is incredibly important and Sun Basket is one company that takes this seriously.
In terms of meal options, Sun Basket offers a Classic Menu and a Family, depending on what suits your needs. Their Classic Menu has a variety of meal plans, including: Chef's Choice, Paleo, Lean & Clean, Gluten-Free, Vegetarian, Mediterranean, Vegan, and Pescatarian. With the Family Plan, you can choose from Chef's Choice or Vegetarian.
Having an assortment of meal plans is going to allow you to customize the meals based on your unique dietary preferences, which is a huge plus. On the menu, you'll find creative and tasty dishes. They offer meal options such as Moroccan Chicken Breasts with Green Harissa and Spiced Carrots, Creole Chicken Gumbo with Okra Over White Rice, Spicy Chorizo and Tomatillo Chili with Coconut and Lime, and Black Bean-Quinoa Burgers with Sweet Potato Fries.
Hello Fresh
Unlike Sun Basket, Hello Fresh doesn't have a variety of meal plans based on your dietary preferences. You're simply going to find three options to choose from: Classic Menu, Veggie Menu, and Family Menu. Although the meal plans are limited, it doesn't mean you won't find plenty of great dinner options.
Their menu includes dishes such as: Balsamic Fig Chicken with Sweet Potatoes and Mixed Greens, Cranberry-Drizzled Duck with Watercress Salad and Mashed Potatoes, Shrimp Pasta with a Kick with Garlic Herb Butter and Zucchini, and Shake It Up! Pork Cutlets with Garlic Bread and an Apple and Sunflower Seed Salad.
Winner: Sun Basket
Portion Sizes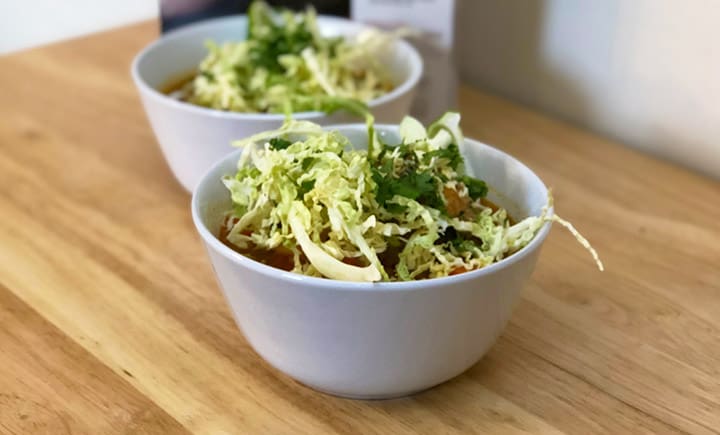 Do you have a big family to feed or only cooking for one? Portion size and the ability to control it when you're ordering is an important factor to consider when choosing the right meal delivery service.
Sun Basket
If you go for the Classic Menu, you can choose servings for two or four people. Two servings is perfect for a couple or someone who enjoys having leftovers. And four servings is going to be ideal for those with a family to feed. This will cost you $11.99 per serving. You can also try Sun Basket's Family Plan. While the options are a bit more limited with this plan, you do get servings for four people at $10.99 per serving.
Hello Fresh
With Hello Fresh's Classic Plan or the Veggie Plan, you can choose between two or four servings per meal. However, the Family Plan will always be enough for four servings. However, just like Sun Basket, the Family Plan always has limited options. You'll want to keep that in mind when choosing. You can always switch your plan later on though.
Winner: It's a tie!
Are Ingredients Pre-Portioned?
Yes, both Sun Basket and Hello Fresh send customers pre-portioned ingredients. These are not prepared meals that simply need to be heated up. You will receive a recipe and all the pre-portioned ingredients you need to whip up a delicious meal in the comfort of your own home. And since everything is pre-portioned, that means you'll have the perfect amount for your dish, eliminating any additional food waste.
Winner: It's a tie!
Recipe Cards & Cooking
For many people, the thought of preparing a home-cooked meal is a little intimidating. But it really doesn't have to be! No matter which meal delivery service you go with, you'll be in good hands with the recipe cards you receive. Sun Basket and Hello Fresh will walk you through each step with detailed instructions. This should hopefully eliminate any kitchen-related stress you might be dealing with!
Also, they both provide pretty easy options. You aren't going to find a lot of complex steps or anything like that. Someone who is a complete beginner in the kitchen can feel confident preparing these meals.
Sun Basket provides suggestions on which steps your kids could complete.
In most cases, the meals are going to take about 30-45 minutes to prepare. If you're looking for something quick and easy, Hello Fresh actually has weekly "20-minute meals" you can choose. At this time, Sun Basket doesn't offer this. However, based on our experience with Sun Basket, there are some dishes that will take around 20-25 minutes to prepare.
Winner: Sun Basket
Delivery & Shipping Options
When it comes to meal kits, there can be no issues with delivery. One delay can mean spoiled food. Taking delivery and shipping into consideration with your final choice is very important.
Sun Basket
If you're interested in Sun Basket, they deliver to most zip codes in the United States. However, they are unable to deliver food to Alaska, Hawaii, Montana, and parts of New Mexico. If you're in one of those locations, it may be worthwhile to check back in the future to see if they service your area.
Deliveries will happen on Monday, Tuesday, Wednesday, or Thursday between 8 AM and 9 PM. This all depends on your delivery area. You will receive a shipping confirmation via email, which will allow you to track your package. There's no need to be home to accept the delivery through. It will be left for you.
No matter what you order, the shipping fee is $6.99 each week. Your first delivery will be free though.
Hello Fresh
With Hello Fresh, they're able to deliver to all of the contiguous United States. So, that just excludes those located in Alaska and Hawaii. Another good piece of news is that you won't have to pay shipping for your order either. However, there may be the rare instance where a shipping fee is required, which you will be informed of at checkout. In most cases, you won't have to pay for shipping though.
You will have the ability to choose your shipping day, depending on what's available for your area. You'll find this when going through the checkout process. And you can change your delivery day if needed later on. Once your order is out for delivery, you can expect it to arrive sometime between 8 AM and 8 PM.
Winner: Hello Fresh
Packaging
Both Sun Basket and Hello Fresh make an effort to use eco-friendly packaging with every order they send out. Everything that Sun Basket uses is 100% recyclable or compostable. For instance, the box is a blend of recycled and virgin kraft paper, the insulation is 100% shredded recycled paper filling, the plastic bags and jars are all recyclable, and so are the ice packs. The ice packs are made of a gel that's 98% water and 2% non-GMO cotton. Sun Basket shares all the recycling details on their website so you can dispose of everything properly.
As for Hello Fresh, they also have plenty of recyclable materials. The separator and honeycomb paperboard can be recycled with the curbside pick-up in your area or taking to a nearby recycling facility. They also switch out their liners based on the season. The liners they use in the winter will have to be thrown out with the garbage, but the ones used in summertime are recyclable.
Winner: Sun Basket
Money Back Guarantee
If you're unhappy with your order from Sun Basket or Hello Fresh, just get in touch and let them know. Both companies are committed to making their customers happy and ensuring they're satisfied with their meals.
With Sun Basket, you'll need to get in touch within seven days after receiving your delivery. They'll either credit you or refund the purchase price for that meal, whichever option you prefer.
Hello Fresh, however, requires you to get in touch within five days of receiving your order. So, if there's a problem, it's best to let the company know right away! Hello Fresh will either give you a credit for the ingredient or the full meal kit, it all depends on the situation.
Winner: Sun Basket
Customer Service
Good customer service is important when it comes to meal kits. There are often questions that need to be answered and having someone there to help when you need them can make or break your meal kit experience.
Sun Basket
To get in touch with Sun Basket's customer service, you'll have to give them a call or send over an email. Their contact information is listed on their website, making it easy for you to get in touch if you have a problem or question. We've reached out to their customer service representatives before to ask some questions. They were very responsive and helpful.
Hello Fresh
If you need to reach Hello Fresh's customer service, you can reach them via phone or email. Unlike Sun Basket, they have a live chat feature that's available during their business hours. This gives you plenty of ways to get in touch if needed.
Winner: It's a tie!
Miscellaneous
Both Sun Basket and Hello Fresh offer referral programs that allow you to make money towards future purchases. You can refer your friends and family and save on your next order. That's a major plus and an incentive to spread the word if you're loving their services!
One thing that makes Hello Fresh stand out is that they're clearly targeting the wine lovers with their offerings. While they started out focused just on food, they've incorporated a monthly wine club as well. It'll get you six bottles delivered to your doorstep each month, meaning you'll have a nice drink to pair with every dinner you cook up. That very well may be the deciding factor in which company you go with!
Final Thoughts
To be quite honest, Sun Basket and Hello Fresh are very similar in terms of the quality of meals they provide their customers. Both boxes we reviewed were delicious.
However, there is one major difference that you should be aware of—variety of meals. Sun Basket blows it away with the different meal plans they offer. This allows you to really customize your dining experience and not be locked into meals you might not like.
Regardless of which meal kit you go with, I think you'll have a great experience.
For even more information, including our taste tests, watch our video reviews of Sun Basket and Hello Fresh.
Have a question about Sun Basket or Hello Fresh that we didn't cover? Leave a comment below and we'll get back to you as soon as possible!