Would you love to have healthy, plant-based meals delivered right to your doorstep? If so, you're going to love 22 Days Nutrition! It's a company that has set out to make plant-based eating much easier by providing customers with delicious and nutritious meals they can enjoy and never feel guilty about eating. It's all about fueling your body with only the best to ensure you not only look great, but that you feel great as well.
It all started with the founder of the company, Marco Borges. Borges is a world-renowned exercise physiologist. He wanted a way to provide his clients with the foods they needed for optimal performance, but he felt limited by the options that were already on the market. Wanting a way to provide people with nutritious, vegan foods, 22 Days Nutrition was ultimately born.
22 Days Nutrition offers meal plan options for you to choose from, as well as the ability to order items a la carte whenever you want them. These meals are made fresh by professional, plant-based chefs and use only high-quality, organic, and non-GMO ingredients. Not only that, but they also provide protein powders that are great for adding to smoothies and bars that make snacking tasty and healthy.
If you're interested in taking the next step to improve your health and you're ready to learn more, keep reading to get the full scoop on this vegan subscription box.
How to Join & Choose Your Items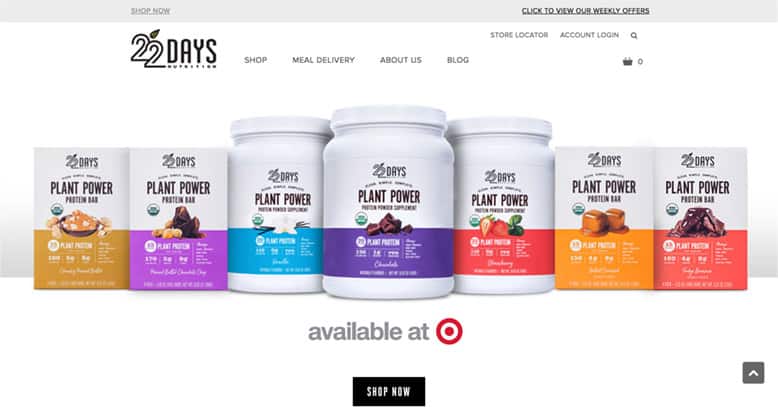 To get started with the 22 Days Nutrition meals, you need to first decide if you want to sign-up for their meal plan or stick to ordering from the A La Carte menu. With the Weekly Meal Plan, you can choose from five, seven, or 22-day plans. This sets you up for weekly deliveries for as long as your plan is running. If you're ready to dive in and try these healthy, plant-based meals, you might find the meal plan is perfect for you and it'll give you a menu to follow.
With the meal plan options, you can choose what kind of meals you'd like to receive. You can opt for just lunch and dinner meals or you can add breakfast as well. It's totally up to you and this gives you the opportunity to customize your plan a bit. If you'd prefer to make your own breakfast every day, you can totally skip that when ordering.
If you want to try out their meals before you commit to a longer plan, you can absolutely do that as well. You can order their meals via the A La Carte menu. This allows you to choose the meals you want to receive and create a menu that's going to work for your tastes and your lifestyle. When choosing from the A La Carte menu, your meals can be delivered as soon as two days after you order.
You really can't go wrong no matter which option you choose. If you need to make any changes to your orders, you can do so at any time. So, if you decide you'd like to make more of a commitment after loving the A La Carte meals, you can sign-up for the longer meal plans.
Types of Food They Offer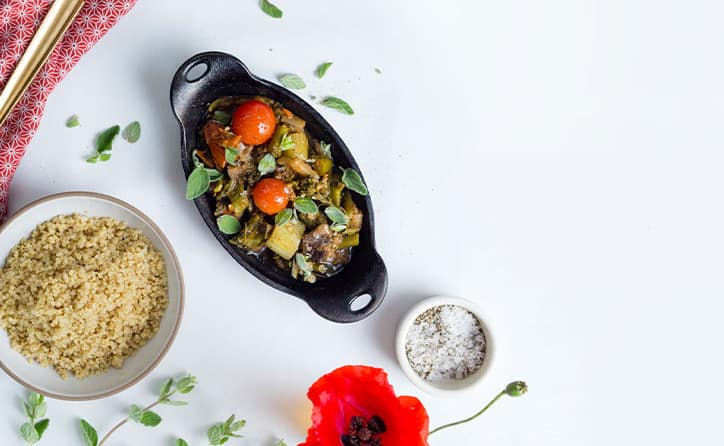 You can check out what kind of food 22 Days Nutrition has to offer by viewing the available items on their A La Carte menu. They offer breakfast options, as well as meals that are suitable for both lunch and dinner.
For breakfast, you can enjoy a bowl of Hearty Granola, Strawberry Guava Chia, or Orange Passion Oatmeal. They also offer Chocolate Banana Muffins and Lemon Poppy Seed Loaf. For lunch and dinner, you'll find: Curry Mushroom Quinoa, Mediterranean Sesame Pasta, Saffron Artichoke Rice, and Italian Vegetable Chickpeas, among other meals. Beans, vegetables, and quinoa are common ingredients in the lunch/dinner items.
Everything is homemade by professional plant-based chefs. Each meal is designed to be the perfect balance of protein, carbohydrates, and fat, while also having limited salt and sugar. They're 100% organic, non-GMO, plant-based, and vegan.
Because everything is also soy-free and gluten-free, those who have a sensitivity or allergy to either one of these ingredients can be assured everything is safe for them to eat. They can enjoy the healthy meals without any concern or negative reactions.
Besides the meals that are available, 22 Days Nutrition also offers products for you to purchase. They have a variety of protein powders that can be added to smoothies and other dishes for an added boost. The protein powders are USDA organic, non-GMO, made with organic superfoods, plant-based/vegan, gluten-free, and soy-free. It comes in the following flavors: chocolate, vanilla, and strawberry.
If you love to keep bars on-hand for snacking, they have just the ones for you! Their protein bars come in a variety of flavors, including: Peanut Butter, Fudge Brownie, Peanut Butter Chocolate Chip, Salted Caramel, Nut Butter Buddha, Daily Mocha Mantra, Enlightened Pumpkinseed, Almond Butter Chocolate Chip, Coconut Chocolate Chip, PB + Chocolate Chip, Cherry Chocolate Bliss, and Pineapple Chocolate Chip Wonder. These bars are suitable for pre or post-workout snacks or as a meal replacement.
Delivery
Meal Plan purchases can only be delivered within the continental United States. These meals need to be kept cold and fresh during transportation, which limits the delivery area that 22 Days Nutrition is able to cover with their orders. Bars, protein powders, and the 22 Days Vegan Challenge Kit can, however, be shipped internationally.
Once you have placed an order and it's shipped out, you will receive tracking information. You'll be able to keep an eye on where your package is and ensure it'll arrive on time. Meal Plan orders will arrive via FedEx before 8 PM on Fridays. A La Carte orders will arrive via FedEx before 8 PM on the day that was indicated in your order confirmation email.
If needed, you can always pause a delivery. This will need t one done before Wednesday at 11:59 PM the week prior to your scheduled delivery date. If you're going to be on vacation within the continental United States and would like to have your meals delivered to you, the delivery address can be changed to accommodate this. You will also have to make any address changes by Wednesday at 11:59 PM the week prior to delivery. You cannot change, pause, or cancel an order after this cut-off time.
Packaging
All of the meals from 22 Days Nutrition are freshly prepared. Once they're prepared, they are then sealed for freshness and placed in a biodegradable, insulated cooler along with frozen gel packs. This will ensure everything stays cold during delivery and you won't have to worry about anything spoiling during the transportation period.
Even better, all of the packaging they use is either reusable and/or recyclable. The coolers that come in your box can be reused, donated, or recycled. If you look at it, you'll notice they're made from plastic and have a #6 on them. You'll want to check with your community recycling facility to be sure they recycle #6 plastics. If not, you can go online to find a nearby place that does. If you're unable to find someone locally to recycle it, you can always reuse it or donate it to someone else who could put it to use.
The gel packs inside your package are also reusable. You can store them in your freezer and use them again in the future. And once you're done eating your food, you can rinse out the containers they came in and recycle them.
Freshness of Food
These meals do not contain any preservatives, but they are properly sealed to maintain freshness. Sealing ensures that the food you order is protected from the air and has a lesser chance of spoiling before it arrives on your doorstep.
Once you receive your order, unpack all of your meals and place them in the refrigerator as soon as possible. The meals will stay fresh in the fridge for seven to eight days. There's an "Enjoy By" date printed on each meal, so you'll always know how long they're good for. If you don't think you'll eat the meals prior to their enjoy by date, you can store them in the freeze to eat at a later time.
Everything is also made with high-quality ingredients, so you can feel confident you're nourishing your body with exactly the food it needs. The meals are: 100% organic, plant-based, soy-free, and gluten-free. Everything is always fresh and never frozen, plus it's perfectly portioned for you to enjoy in no time at all.
Ease of Cooking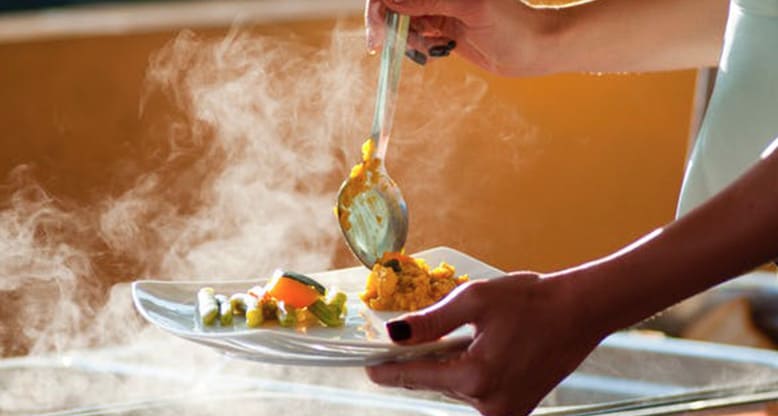 To make mealtime more enjoyable for you, everything from 22 Days Nutrition is easy to prepare. All you have to do is take your meal out of the container and then heat the food on the stovetop, in an oven, or in a toaster oven. These are their preferred methods for heating up their meals, as they encourage you to prepare it, plate the meal, and take your time eating it.
If you're in a hurry, you can always cook the meal in the microwave for more convenience. The plastic used for the packaging is BPA-free and totally safe to microwave. No matter which cooking method you choose, heating instructions are on the package so you can prepare your meals in no time at all.
Taste
For those who aren't used to following a plant-based diet, you might be worried the food won't be as satisfying or that it won't be as flavorful. And that couldn't be farther from the truth! The meals this company has put together will prove to you that vegan meals can taste great while also filling you up.
If you love a little something sweet for breakfast, the Chocolate Banana Muffins are going to be your go-to. It's sweetened with a little Grade B Maple Syrup, so you'll feel like you're indulging in a delicious treat, but it's actually good for you! Another amazing breakfast option is the Strawberry Guava Chia. This is a smoothie bowl you're going to love eating. It's the perfect way to start a hot summer's day, as it's so refreshing and will still leave you feeling satisfied.
Do you love something a little spicy? You're going to enjoy the Chipotle Pepper Rice for lunch or dinner. It has plenty of peppers and spices that will have your mouth watering. There's no way anyone could call this dish bland! Another favorite is the Creamy Eggplant White Bean, which contains so many tasty ingredients. In it, you'll find white beans, onions, carrots, dried cranberry, broccoli, eggplant, cremini mushrooms, and more. The Paprika Pinto Bean Blend is also highly recommended! All of these make the perfect meal to cook up for lunch or dinner. Just don't forget to take the time to sit down and actually savor each bite!
Pricing
When ordering from 22 Days Nutrition, there are a few options you can choose from. Because of the variety of plans, pricing will vary depending on what you select. You can choose a Weekly Meal Plan or the A La Carte option to get started.
If you want a full meal plan, you can choose from three different options: the 22-day plan, the seven-day plan, and the five-day plan. The 22-day plan provides you with 22 days of meals and costs as low as $9.50 per meal. The seven-day plan gives you enough meals for the week and will cost you as low as $11.50 per meal. And finally, the five-day plan gives you five days of meals as low as $12.50 per meal.
For the A La Carte option, you're able to choose the meals you want and create your own menu. Your final cost will ultimately depend on what you purchase and how much. Breakfast options are typically $6.95 and lunch/dinner meals cost $12.95.
Final Thoughts
Whether you're already following a plant-based diet or you're considering trying it out, 22 Days Nutrition is a great option for you. With three different meal plan options (22 days, seven days, and five days), you are able to get your health on track in a way that truly works for you. All you have to do is select how many meals you want to receive and place your order! Alternatively, with the option to choose from the A La Carte menu, you're able to try out the foods before you make the commitment.
Either way, you can't go wrong with these tasty and nutritious meals. You can feel good about purchasing from 22 Days Nutrition knowing that they use only the best ingredients that are going to nourish your body and leave you feeling satisfied after every meal.