Looking to discover new wines? You're in the right place...
Bright Cellars is a monthly wine club service that was founded in 2014 by Richard Yau and Joe Laurendi. These MIT grads both had a passion for wine and wanted a way to curate high-quality bottles and ship them off to customers. Their goal in starting Bright Cellars was to provide people with wines they'd love from regions all over the world so people could experience unique flavors they wouldn't necessarily be able to get their hands on otherwise.
What makes Bright Cellars unique is their specialized wine matching algorithm. This allows your monthly wine selection to be curated to your preferences and then shipped right to your door. There's no more heading to the store and questioning what to purchase or buying the same old "tried and true" bottles all the time.
Keep reading to learn about our personal experience with Bright Cellars and find out if it's right for you...
How to Join & Choose Your Wines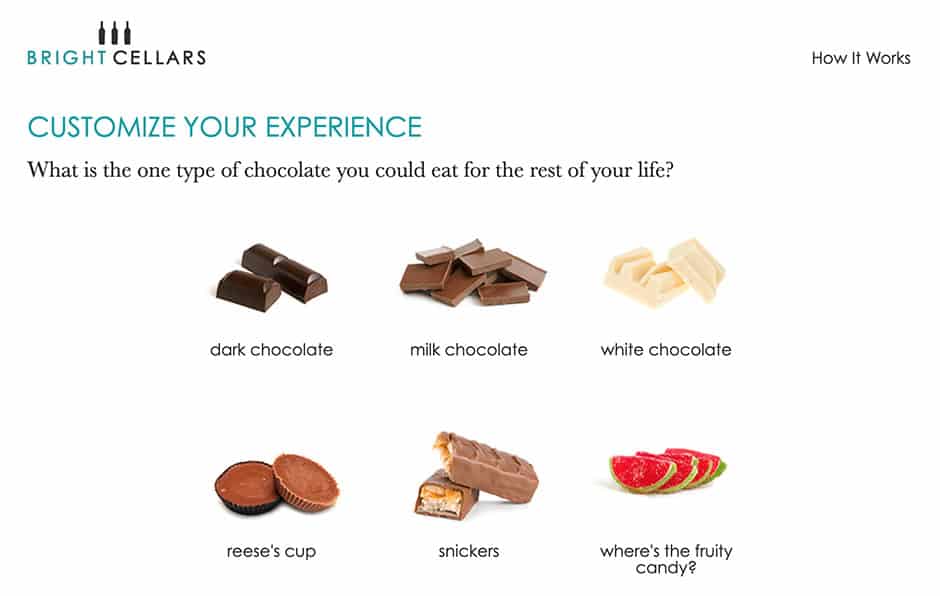 To get started, you'll first take the quiz that Bright Cellars has designed to learn more about you and your wine preferences. This quiz will help them tailor wines specifically to your individual tastebuds so you're more likely to receive something you'll enjoy. It won't take long to complete. In fact, it's only seven questions long! You'll answer the following questions:
What is the one type of chocolate you could eat for the rest of your life?
How do you like your tea?
What's your go to drink?
What is your favorite juice?
What is your favorite wine pairing?
How adventurous are you with new food and drink?
Do you have a preference for red or white wines?
It may sound scary leaving your wine selections in the hands of an algorithm, but don't worry. Bright Cellars is so confident in their wine selections that they offer a "Delight Guarantee". This means their concierge will help you select a free replacement in you next box if you're matched with a bottle you don't love.
From there, you'll be able to view the matches they've selected for you based on the taste profile you've created from the quiz. You'll be presented with four unique wines that Bright Cellars believes you'll love. Then, the wines will be shipped straight to your door for you to taste and enjoy.
Types of Wine They Offer
Their focus is to provide their customers with unique wines from small vineyards located all over the world. The wines you'll receive will come from places such as Italy, Spain, Portugal, and South America.
Because their wines come from so many different regions, it guarantees that you'll have the opportunity to try bottles you wouldn't have otherwise come across. It's perfect if you've been wanting to shake things up a bit when it comes to your usual glass of wine.
Of course, your selections will be based on your own preferences. However, you'll see bottles such as the Cactus Park "Blackburn's Belle" Merlot 2017, the Mojave Rain Zinfadel 2017, Circa 33 Cabernet Sauvignon 2017, and the Jinxed Wine Coo. Chardonnay 2016. All of these selections come from right here in the States!
Our Box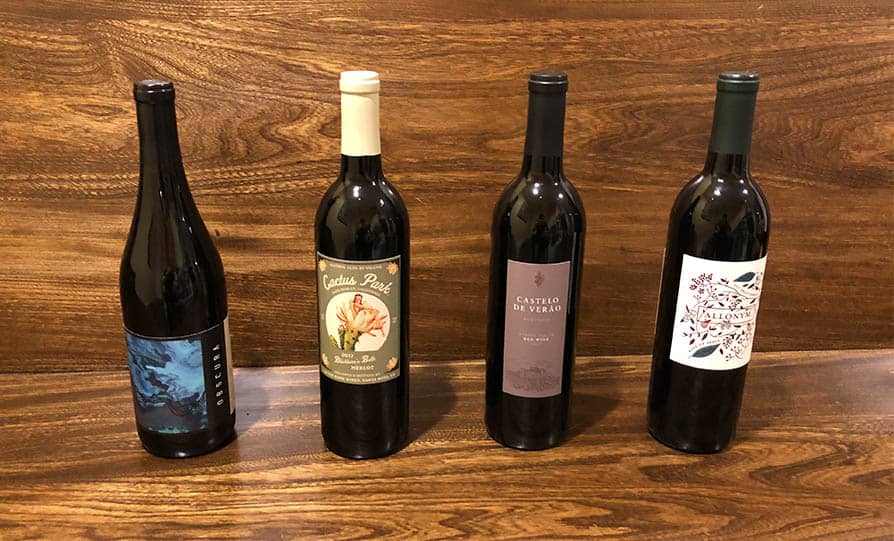 Bright Cellars sent us a box to review, which you can see in the video above. We received the following wines:
Cactus Park 'Blackburn's Belle' Merlot 2017
Allonym Petit Verdot 2017
Obscura Petite Sirah 2016
Castelo de Verão Red Blend 2017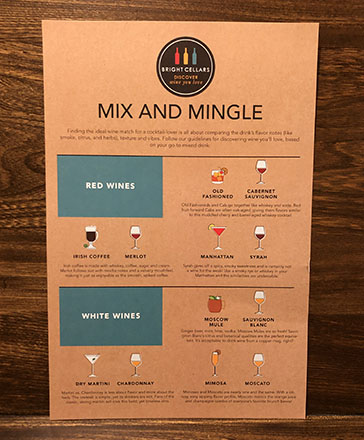 Upon opening the box, you'll see a paper that gives you some insight into how to select wine flavor based on your go-to cocktail choices. Apparently it all comes down to the flavor notes, texture, and vibes of the drinks. This is the only information about the wine that comes in the box. If you're looking for a wine subscription that sends you customized wines and information about pairing, the wine history, vineyard, and more, check out our review of Winc.
In the video we taste tested the Castelo de Verão Red Blend and that one actually ended up being our favorite of the bunch. Based on the answers we gave on our quiz, it matched our taste profile perfectly. In fact, it even had hints of flavor similar to another one of our favorite red blends.
The other three wines were also delicious and surprising. On the quiz, we put down that we're mildly adventurous when it comes to our food and drink. Therefore, we were paired with some unique flavors that ended up being a little outside of the normal wines we usually drink (but still really enjoyed them).
Packaging
As you can see in the unboxing video, the packaging is pretty sturdy. Although it's cardboard, the wines are individually packaged and wrapped inside the box. Of course, we're always a bit worried when we order anything glass to be shipped. No matter what, there is a chance that the glass will break, leading to a wine leaking disaster. That being said, unless the box was thrown or slammed on the ground, it would be hard to break these bottles. And if your box does arrive leaking, reach out to the folks at Bright Cellars and they should be able to fix your issue.
Delivery
The most important thing to keep in mind when ordering from Bright Cellars is that someone of legal age needs to be available at the time of the delivery. Because this is an alcohol delivery service, a person who is 21 or older will need to be at the shipping address in order to receive and sign for the package, otherwise it cannot be dropped off.
If you aren't going to be home during the day, you can always send your Bright Cellars delivery to your workplace. This way, you can ensure it's signed for and that you don't miss the delivery. You will be provided with tracking information for your order, so just keep an eye on it and you can expect its arrival.
Also, there is a shipping fee of $8 that you'll have to pay for every order.
Pricing
So, how much is it going to cost to have a monthly delivery of wine shipped to your door? Well, you'll receive four bottles each month, which total $20 a piece. Before tax and after you factor in shipping costs, you'll be looking at paying around $88 per month. This comes out to $22 per bottle shipped. Whether or not this is a worthy price to you really depends on how often you're drinking wine. Plus, it's worth noting that these are full-size bottles of wine. They aren't the equivalent of wine glass like Vinebox sends for taste testing.
Pros vs. Cons
When reviewing Bright Cellars we identified a lot of positives as well as some negatives. We highlight the pros and cons of this wine club to help you make the right decision...
Bright Cellars Pros
A great way to discover new wines. Wine clubs in general are a fun way to explore wines and find new favorites.
Their "guarantee" ensures you love each bottle. If you don't love the bottle they send, they'll replace it.
Bottle pricing is about the same as you'd find in stores. To give you an example, the Allonym Petit Verdot 2017 we received in our first box is priced at $23 on the official Allonym website.
Bright Cellars Cons
$88 can be a lot of money to spend each month. Unless you're a wine lover, $88 could be an additional unnecessary expense.
Only one plan to choose. You're unable to choose a smaller or bigger plan.
You have to be available to sign for the package. Since the package contains alcohol, you (or someone of legal age) will have to accept the package.
Final Thoughts: Is It Worth It?
For someone who drinks wine regularly and loves to have bottles on hand at all times, Bright Cellars is definitely convenient. Plus, you have to factor in the overall experience you're getting with this monthly subscription service. You're being pushed outside of your comfort zone to try something new. Far too many of us are guilty of sticking to the favorites and afraid to change things up a bit. This could really help you with that!
Ultimately, it comes down to how much money you want to spend on wine each month. For someone who doesn't drink frequently, the $88 per month price tag might be too hefty. But if you're a wine lover, it actually might be just right for everything you get.
Feel free to use our special coupon link here for $50 off your first box!