You may have already heard... Hint is shaking things up a bit. Their service is all about helping you drink more water while consuming less sugar. And it's all thanks to their tasty, unsweetened, flavored water.
The creators behind Hint wanted to drink more water themselves, but found it was just too boring to drink a glass of plain water all the time. This prompted them to come up with a solution that tastes great while still keeping you hydrated and ensuring you don't have to worry about extra calories or added sweeteners.
Because their drinks are bottled at multiple locations across the United States, the source of their water varies. They use whichever local source is closest to pure water. From there's it's further purified and then infused with Hint's all-natural flavors. And all of those flavors come only from non-GMO plants, so you can feel good when drinking it.
For those searching for a refreshing flavored water that tastes great without all the calories, sweeteners, and preservatives, Hint is one company you'll want to check out.
If you're looking to make your first purchase, we have to scoop on how you can get your hands on some...
How to Join & Choose Your Items

If you're interested in ordering some flavored water from Hint, the good news is you have a few options. You could head to your local grocery store and find some Hint flavors there. They do have a handy store locator on their site to help you find local stores that stock the drink. Unfortunately, they're only in select locations across the United States right now.
However, if you want something a little more convenient, you can place your order online and stock up with just a few simple clicks. When ordering from Hint's website, you can make one-off orders that allow you to purchase your favorites whenever you need them. Or, you also have the ability to sign-up for a subscription, which can save you some cash.
With a subscription to Hint, you'll start by picking your favorite flavors. They have over 20 options and you can actually get free shipping on orders of three or more cases. From there, you'll select your delivery frequency. You can opt to receive deliveries of Hint every 14, 30, or 60 days depending on your needs.
That means, you can kick back and relax while you wait for cases of Hint to arrive on your doorstep. And the best part is that you aren't locked into a subscription. You can cancel or skip a delivery whenever you want, making it even more convenient for you whether it's for the house or office.
Types of Drinks They Offer
For those who aren't familiar with Hint's drink offerings, you might be wondering exactly what you can find on their site. Well, Hint actually has three different types of drinks. There's the classic Hint, which is simply a flavored water. They also have Hint Fizz, which is sparkling water and comes in a few different flavors. And then there's Hint Kick, which has a little caffeine in it for those who need that pick-me-up.
For classic Hint flavors, you'll find the following in their line-up: pear, cherry, blackberry, watermelon, peach, pineapple, crisp apple, peppermint, raspberry, blood orange, strawberry-kiwi, mango-grapefruit, pomegranate, honeydew hint, lime hint, and cucumber hint.
Hint Fizz comes in cherry, blackberry, peach, watermelon, grapefruit, and strawberry-kiwi.
And the Hint Kick variety can be purchased in apple pear, black raspberry, and lemon cayenne.
Delivery
Hint will deliver orders to street addresses within the United States. However, they do not ship to FPOs, APOs, P.O. Boxes, Alaska, or Hawaii. They are also unable to ship to Canada at this time. If you're in one of the other 48 states, then you're good to go and can place your order!
The company processes orders Monday through Friday. Your order should arrive within three to six business days. Of course, you will be able to track your order once you receive your shipping confirmation email. So, you'll always be able to keep an eye on your package while it's in transit—a nice plus.
When placing an order, do keep in mind that shipments of one or two crates of Hint will require you to pay a flat rate shipping fee of $5. If your order contains three or more cases, you will receive free shipping.
Packaging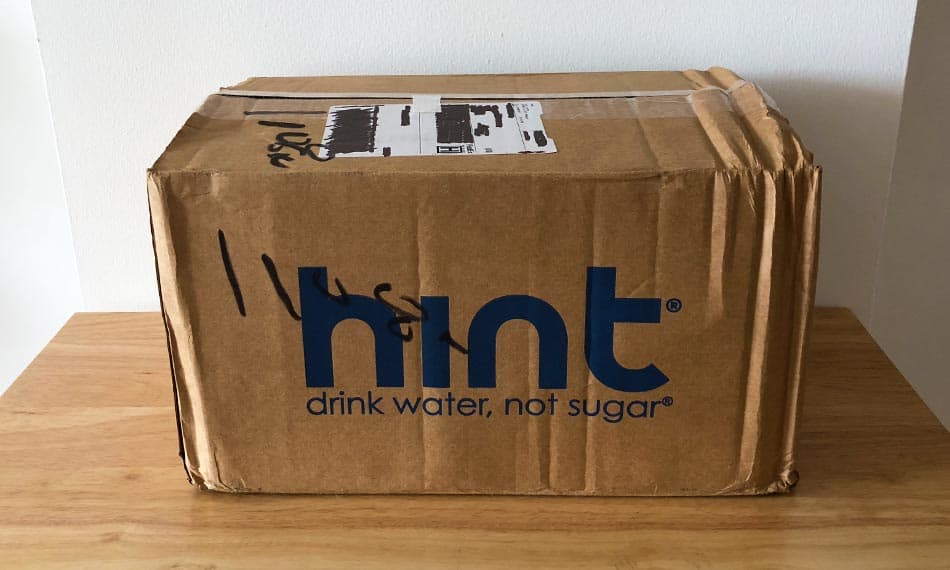 No special packaging is required to ship your Hint drinks to you. They won't need to be kept cold during transit, so you won't have to deal with dry ice, insulation, or anything like that. The box we received had no inner lining to protect the bottles in transit. Although, they arrived to us without any damage.
You can recycle the cardboard box your order arrives in. And you can also recycle your plastic Hint bottles when you're finished with them to do your part in helping the environment.
Taste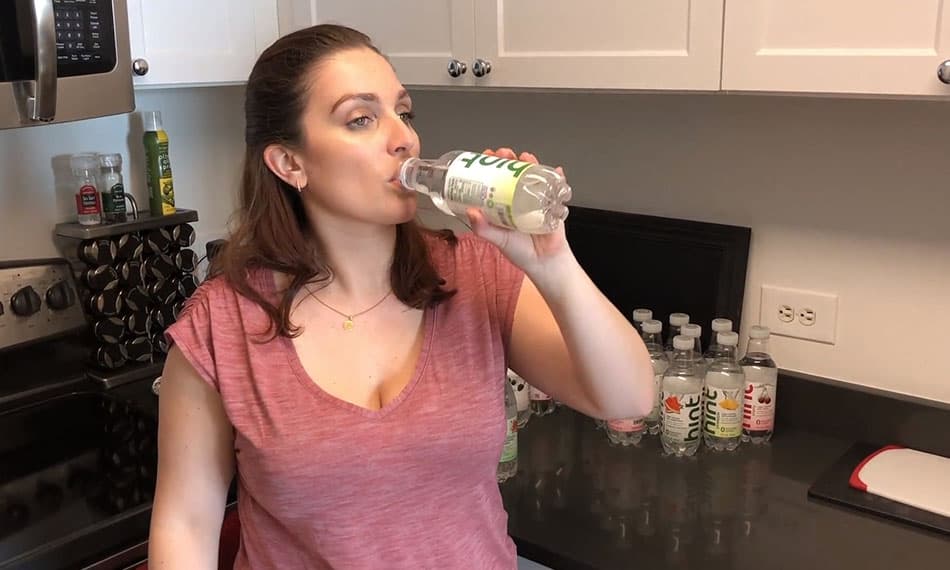 Beyond the fact that Hint is flavored water without the added calories, the flavors we tested also taste great. The Watermelon Hint is definitely a favorite and makes for the perfect refreshing drink in the summertime. It's made from just purified water, watermelon, and other natural flavors from non-GMO plants. Plus, with no calories and no added sugars, you don't have to worry about drinking it.
Another favorite of mine is the Rasberry Fizz. It's light, refreshing, and surprisingly keeps its fizz for a full day after being opened.
But hey, if you're new to Hint and having trouble choosing which flavors you should try… They offer variety packs, which we ordered for our first review. That gives you the chance to taste all of their popular flavors and make a decision.
Pricing
When purchasing through Hint's website, you are order a case of their drinks. You aren't purchasing a single bottle, which is why you're going to notice higher prices. For the classic Hint drink, the price is either $19.99 or $21.00 for 12 16-ounce bottles. The price difference depends on the flavor you choose.
Hint Fizz costs either $19.99 or $21.00 for 12 16.9-ounce bottles. And Hint Kick also costs $19.99 or $21.00 for 12 16-ounce bottles. You can also purchase an assortment of variety packs, which range in size and price.
Final Thoughts
For anyone who wants to drink more water, but gets bored by it… Give Hint a try! Besides the benefits that proper hydration has, these are beverages you'll actually want to drink while cutting out sugar, carbs, and "natural" (fake) flavors.