These days there are more meat delivery services to choose from than ever before. Having tried dozens of them over the years, I know from experience that not every single one is worth your time or money.
When I stumbled upon Kansas City Steak Company after we reviewed Omaha Steaks, I was intrigued. Not only do they offer a ton of different cuts of meat, they also have a variety of premade meals.
While they have the quantity, do they have the quality to match the high prices they're charging? We decided to order a box for ourselves to see!
Today we're going to share our honest review of Kansas City Steak Company where you'll get an idea of what our personal experience was like—from ordering to cooking to our taste test—to help you determine if it's the right choice for you.
About Kansas City Steak Company
They first started out in 1932 as a family-owned butcher shop called S&S Meat Company.
They ended up growing in popularity and becoming a meat supplier for big retail businesses such as Outback Steaks and Carrabba's.
In 1984 they shifted focus and decided to venture into the mail order steak business, something that Omaha Steaks pioneered years prior. What eventually launched their mail order business was a deal with QVC to promote their products.
Since then, they have partnered with National Beef, who is the meat supplier for their Kansas City Steak Company online business. This means if you purchase from their online store, while the brand name is "Kansas City Steak Company", the meat you're getting is actually from National Beef.
Types Of Food Kansas City Steaks Offers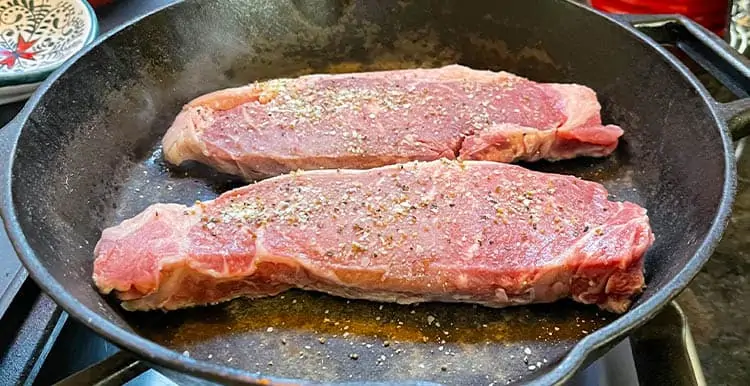 When I first went to the Kansas City Steak Company site, I was pretty surprised. They have a pretty huge selection to choose from.
Here's a quick overview of just some of the meats and cuts they have right now...
Steaks
Filet Mignon
Kansas City Strip
Ribeye
Porterhouse
Top Sirloin
T-Bone
Flat Iron
Prime Rib
Beef
Brisket
Prime Rib Roast
Steakburgers
Tenderloin
Other Meats
Ham
Turkey
Chicken
Lamb
Pork
Seafood
Lobster
Salmon
Sea bass
Halibut
Shrimp
Scallops
They also have a pretty big variety of sides, extras, and desserts, such as:
Steak fries
Creamed Spinach
Mac and Cheese
Sweet Potato Casserole
Cheesecake
Key Lime Pie
Chocolate Lava Cake
The Ordering Process
There are quite a few different ways to order from Kansas City Steak Company. As mentioned above, they sell through QVC but they also sell on Amazon and you can also call (877) 377-8325 to order directly from them over the phone.
For the purposes of this review, we decided to purchase from their website at kansascitysteaks.com.
When we were going through the site to select the food we wanted to have delivered, I was a little confused at how you actually add items to your cart. For example, when I went to add the Kansas City Strip Steak to my cart, a pop-up appears asking me to select the size and count of the steak. However, down below all of the main options, it lists an "add-ons" section where you can save money by pairing it with another item that is $59.95 or more.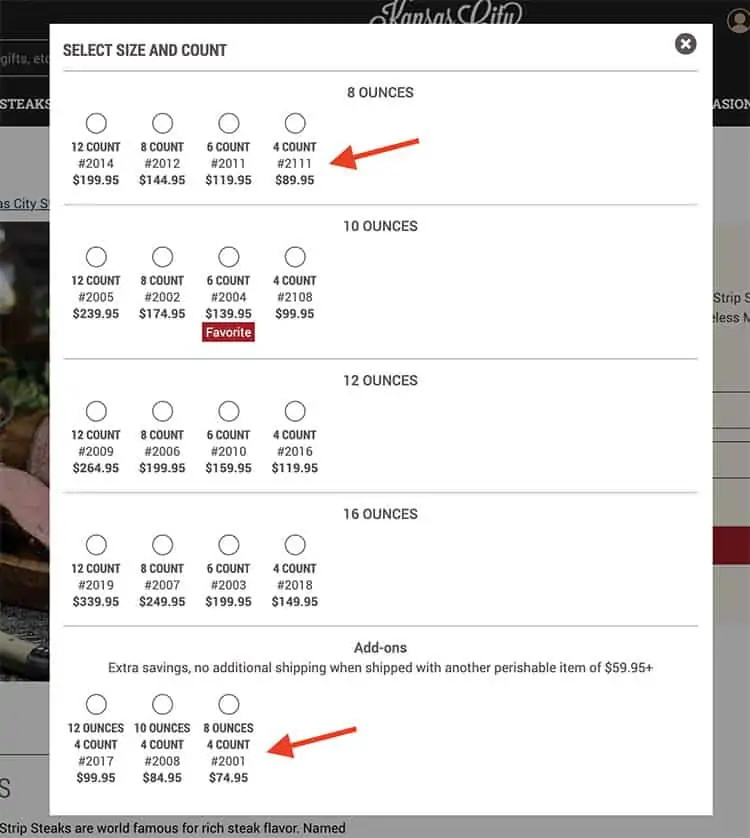 I bring this up because I added over $200 worth of items to my cart and before I checked out I realized that I could save money by switching all of the items to "add-ons" rather than paying the full price.
If all of this confuses you, trust me, I get it. It is a very confusing ordering process. Most of us are used to adding items to our cart and then seeing the discount appear at checkout. However, this is not the case with Kansas City Steak Company. You actually have to select the discounted version of the item upfront on the product page, rather than it happening automatically. Because of this, I almost accidentally and unnecessarily spent much more than I needed to at checkout.
Where Does Kansas City Steaks Source Their Meats?
All of the food that Kansas City Steaks sells comes from National Beef, which has locations throughout Kansas. The beef comes from U.S. Premium Beef, with ranchers across 37 different states. It's not clear whether the cattle the steaks come from are actually from Kansas City or even Kansas.
On the Kansas City Steak Company website, they don't make it clear where any of the other meat comes from. On their "All About Steak" page, they are pretty vague about the source of their meat, only stating they source from "tight cattle supply from producers with known and approved management methods".
Kansas City Steak Company Meat Grading
Thankfully, Kansas City Steak Company shares their USDA grading more than Omaha Steaks does.
The beef they sell is primarily USDA choice and USDA prime.
If you're unfamiliar, here's a brief look at the main USDA grades of beef:
Prime beef is from young, well-fed cattle. It generally has a lot of fat or "marbling".
Choice beef is high quality but has less fat than prime beef.
Select beef is the leanest beef.
Standard and Commercial grades of beef are usually sold as ungraded or as store brand meat.
These grades are important to see since they allow you to know the type and quality of the meat. In my experience, they allow you to cut through all the marketing lingo that a lot of meat delivery companies use.
What We Received In Our Recent Kansas City Steak Company Box
Now let's get to the good stuff—what we ordered! Here's a look at what came in our recent box along with the pricing for each item and our thoughts on taste.
4 8 oz Kansas City Strip Steaks ($89.95)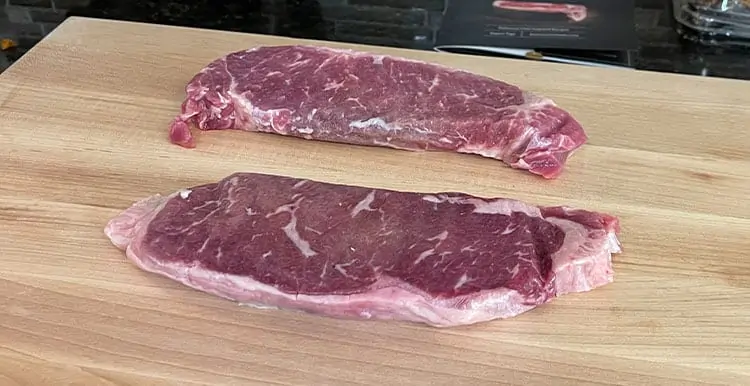 These were the steaks that we made in our review video above. You can see that they look fairly similar to the strip steaks you'd find in your local grocery store. When it came to cooking them, we followed the instructions in the booklet they send along with the food but it ended up leading to them coming out pretty overcooked. While they still had some flavor, they were very tough to eat.
Kansas City Steak Fries ($9.95)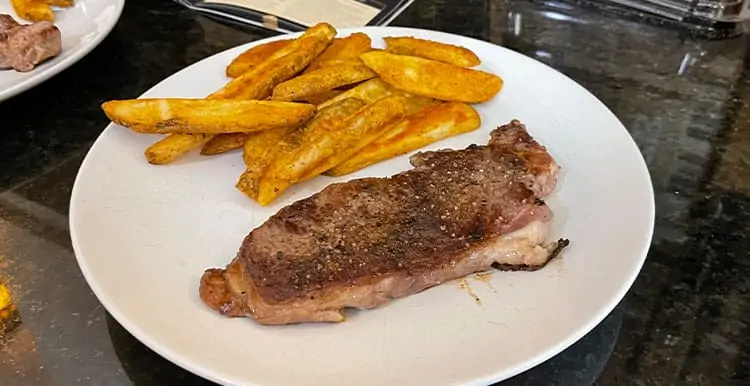 These fries came out surprisingly delicious. Even though they're premade and just needed to be heated up in the oven, they still had a decent crunch to them. And they had a freshly made taste.
Cheddar & Bacon Twice Baked Potatoes ($14.95)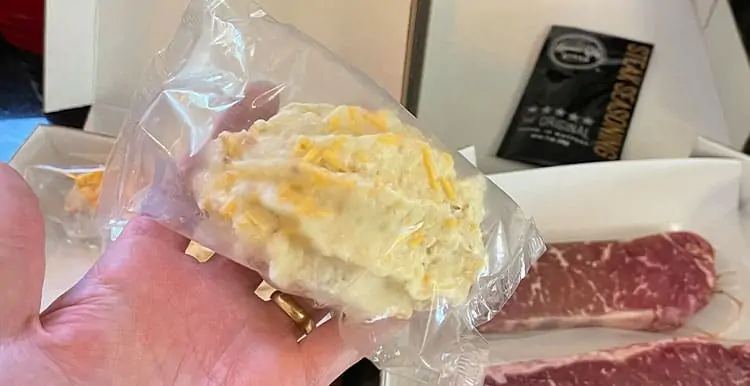 These looked very appetizing on the product page but ended up being a disappointment. The potatoes themselves were dry and overall lacked flavor (other than salt).
4 "Brookies" ($11.95)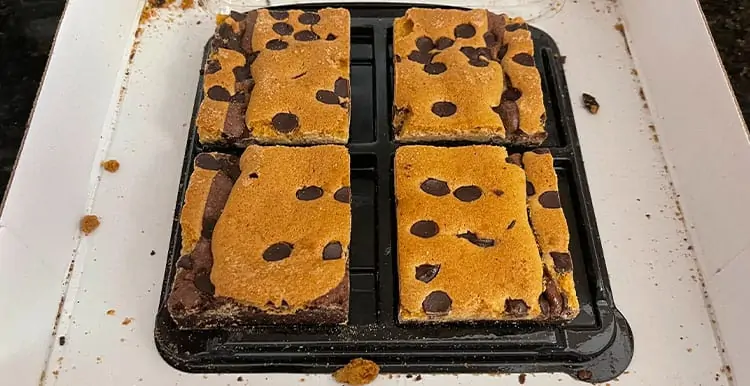 Funny enough, these "brookies" were the best item we ordered from Kansas City Steak Company. They are half brownie and half cookie. The taste is out of this world, as you can probably tell by Emily's reaction in the taste test portion of our review video.
8 Classic Steakburger Sliders ($19.95)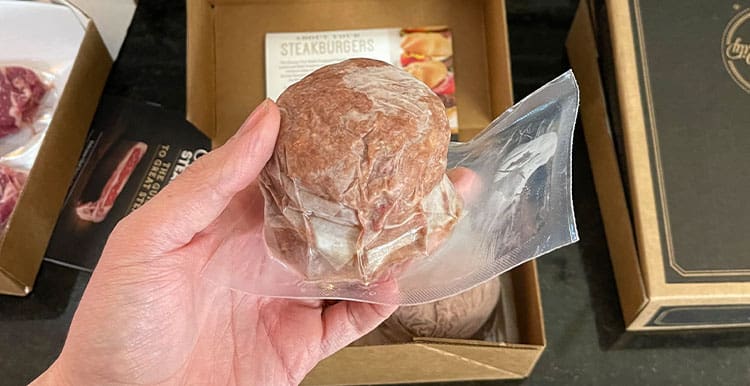 These ended up being decent sliders and actually came out better tasting than the strip steaks we ordered. While small (only 2 oz) they pack a good amount of flavor, they're juicy, and they make for a great bite-sized appetizer.
4 Chicken Wellingtons ($69.95)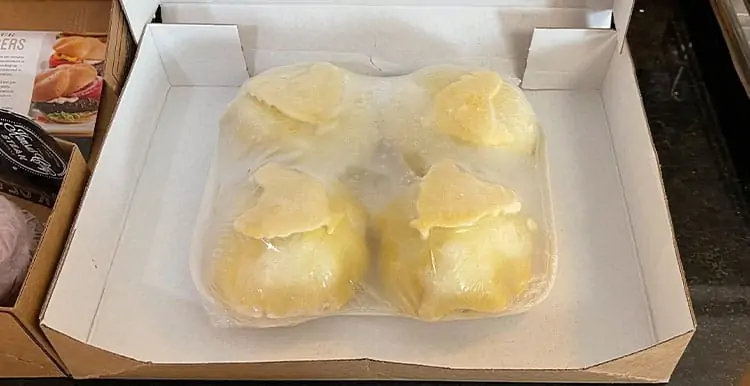 These were another favorite of mine. It's a chicken breast topped with mushrooms, garlic, and herbs, then wrapped in a bread crust. The dish itself definitely had flavor and the crust actually stayed pretty flaky. For being frozen, this surprised me.
Quality
Visually the steaks looked okay and they tasted good. But what about the quality? Kansas City Steak Company says that their grass-fed beef is raised without hormones, antibiotics or artificial ingredients. Also, when looking over many of their other meats, I found that they also do not have any added hormones or antibiotics (for example, their grass-fed leg of lamb).
However, I did notice that many sides and extras that they offer do use preservatives such as Potassium Sorbate, as seen in their Twice Baked Potatoes.
What To Know About Cooking
One of the big issues Emily and I ran into with Kansas City Steak Company was the cooking process. They give you a booklet that has all of the information needed to make everything from cooking your steaks to heating up the premade dishes.
When we went to cook the steak, we followed the directions outlined in the booklet since we wanted to make sure we were doing everything correctly so they would come out as delicious as possible.
Unfortunately, the was that the booklet lays out the steps, you have to jump between different pages for different steps. For example, on page 10 it tells us the partial instructions for cooking the steak on a skillet. Then you have to jump to page 12 to see how long you need to cook the steak. But on page 12, they have different cooking instructions at the top of the page.
But the most irritating part was that some of the steps don't have spacing between the words. I found it to be pretty tough to actually follow the directions properly because of this.
Delivery & Packaging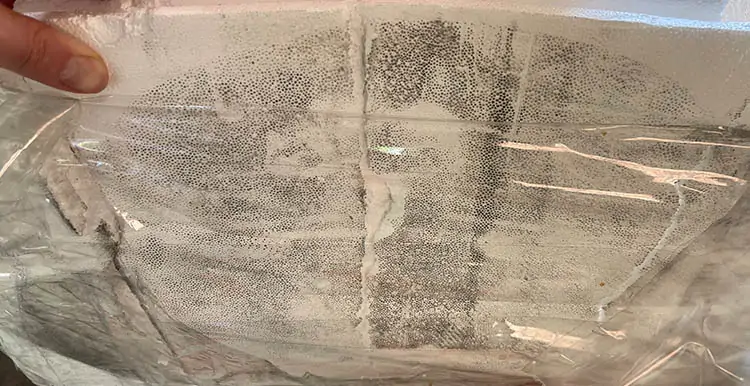 Our box was shipped on a Wednesday and was delivered on a Friday via Fedex.
As you can see in the picture above, our box did get pretty banged up while it was being delivered. Styrofoam in general is a little more brittle and breaks easier than cardboard, so it's not surprising. Thankfully, our Fedex driver let us know what happened and asked if we wanted to mark it as a damaged delivery. I checked inside while he was there and everything seemed like it was still frozen, so I decided to keep it.
Inside the Styrofoam box there is a big chunk of dry ice to keep everything frozen while in transit. Then each item of food is wrapped with plastic and packed within its own box. Needless to say, this creates a lot of waste between the Styrofoam, plastic, and individual boxes.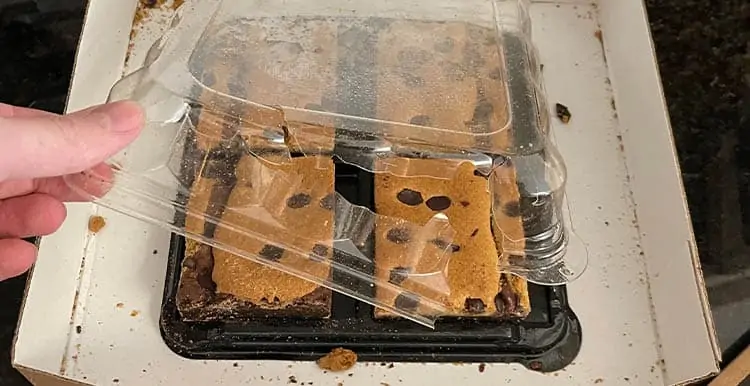 Another issue we ran into was that the inside boxes that hold the food are not padded and don't provide any cushioning in transit. This led to our "brookies" packaging getting damaged and spilling out a little when we opened it, as you can see in the video.
Kansas City Steak Company vs. The Competition
It's likely you probably already know that Omaha Steaks is the biggest competitor to Kansas City Steak Company. Both are very similar in terms of what they offer—between steaks, different cuts of meats, gift bundles, and even their websites.
However, there are a ton of lesser-known meat delivery services out there these days that also provide a similar service. Here's a look at some of them and how they differ from Kansas City Steaks:
Kansas City Steak Company Pricing & Price Comparison
In my opinion, Kansas City Steak Company is very expensive. When I saw that 4 Kansas City boneless strip steaks were close to $90, I was shocked. That's over $22 per steak and they were only 8 oz each (the smallest size I could order). To put that in perspective, at $89.95 for 4 8 oz strips, that comes out to $2.81 per oz.
To give you an idea of how Kansas City Steak Company compares to the other meat delivery services listed above, here's a look at all of their boneless strip steak pricing:
You can see that Kansas City Steak Company is most comparable to Omaha Steaks and Snake River Farms in terms of pricing.
Food Box HQ Note: These companies often change the pricing of their products. These were the correct prices at the time of publishing this review. If they are incorrect as you are reading this, please let us know in the comments and we will update accordingly. Thank you!
Pros & Cons Of Kansas City Steak Company
Now that we've gone in-depth on our experience with Kansas City Steak Company, let's talk about what we like and what they could improve upon…
Kansas City Steak Company Pros
They offer a ton of variety. Between the different cuts of meat, different types of meat, sides, appetizers, desserts, and gift bundles, they are up there with Omaha Steaks in terms of the amount of food they have available to purchase.
Some foods were very delicious. The steak fries and "brookies" desserts were absolutely delicious.
They have a great money back guarantee. If you're unhappy, you can contact them and they will refund your money or replace the items you're unhappy with.
Kansas City Steak Company Cons
It's expensive. I found Kansas City Steak Company to be one of the most expensive meat delivery companies we've ordered from.
The ordering process was a pain. In my opinion, their ordering process is very confusing and almost led to me paying more for items rather than getting the discounted rate.
The cooking instructions were not that clear. I found the cooking booklet was a bit confusing to read and the section that tells you how to cook the steak doesn't have spacing between the words.
I'm not a fan of the packaging. First, it's all styrofoam, which is terrible for the environment. Second, the boxes that hold the food are not cushioned, which led to our "brookies" dessert getting a little smashed while in transit.
The flavor of the steaks and some sides could have been better. Especially considering we paid close to $90 for 4 steaks.
Final Thoughts: Is Kansas City Steaks Worth It?
For the amount we paid, I really was hoping Kansas City Steaks would be a better experience. To be honest, I was a bit disappointed.
If you're looking for the best value, I don't believe it's Kansas City Steak Company. From my personal experience, I've found that there are other high quality meat delivery companies out there that offer better options at lower prices. Porter Road, Rastelli's, and Crowd Cow are three great alternatives to consider.
That being said, Kansas City Steak Company does have a lot of variety and they offer many different "bundles", which are good options for those who want to cater events, holidays, etc.
If we were ever to order from them again, I would probably skip their website (because I found the ordering process to be confusing) and just order directly off of their Amazon shop.
Have a question about Kansas City Steak Company we didn't answer in this review? Have you tried Kansas City Steak Company? Let us know in the comments below!