Does your day feel incomplete without a warm cup of tea? If so, Teabox has the perfect service for you. Sourced from some of the top tea gardens in India and Nepal, they're delivering an assortment of teas straight to your doorstep every single month.
We decided to try out their subscription service to see if they make the best "tea of the month" club. Keep reading to find out our thoughts...
How to Join & Choose Your Items

Teabox works two ways. First, you can purchase teas from them on an a la carte basis. Second, you can sign up for their "tea of the month" club. For this review we chose to try their tea club subscription service.
By signing up for a subscription with Teabox, you can expect to receive a variety of themed boxes that allow you to explore teas from different areas of the world, as well as monthly deliveries.
To get started, you'll want to head over to their "Subscription" page and begin by selecting your plan. There you'll see that they currently offer three different options, which includes a one-month plan, a three-month plan, and a six-month plan. With the three-month and six-month plans, you'll be billed every three and six months, respectively. The one-month plan requires you to pay monthly, but the trade-off is that it's less of a commitment upon singing up.
I like the fact that they allow customers to choose different plans instead of forcing them to only go with the one-month plan. I don't want to be overloaded with tea!
Types of Tea They Offer

They offer six different types of teas, including: black tea, green tea, white tea, oolong tea, chai, and blended tea (all of which have their own distinct benefits).
Not only that, but these teas come from different regions around the world. That means you'll be able to experience high-quality tea that you won't be able to readily purchase at your local supermarket. You'll find teas from regions such as Darjeeling, Assam, Nilgiri, Kangra, and Nepal.
With literally hundreds of teas on the Teabox menu, it's safe to say you'll have plenty to choose from.
If you decide to go with their subscription service, the tea you receive in your box will be a surprise. I can see how some people wouldn't like to sign up for a service where they had no choice over what they're getting. On the flip side, some people might sign up for this service for the very reason that they get to try new teas they otherwise wouldn't have ever bought before.
Delivery
One great thing about Teabox is that they actually offer worldwide shipping, which isn't something many other tea companies or tea of the month clubs provide. To find out how much shipping is going to cost to your location, they have a handy shipping calculator to see what kind of pricing you're looking at before placing your order.
For those in the United States, you can expect to pay $10 for express shipping (four to six days) for orders up to $29.99. If your order total is between $30-$49.99, you'll be charged just $5 for shipping fees. And finally, orders above $50 will receive free shipping from Teabox.
Their website states that orders received by noon IST (Indian Standard Time) typically ship out on the same business day. If you've placed your order after this time, you can normally expect it to ship out the very next day.
International shipments are handled through DHL/FedEx, so you can expect one of these companies to perform your final delivery.
Freshness of Tea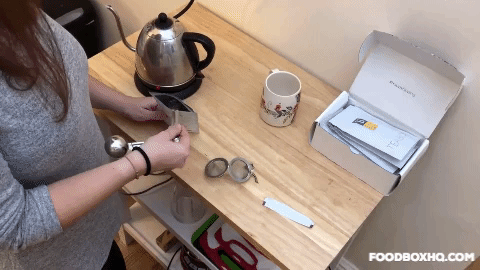 You might be wondering what makes Teabox so special. Is this really better than getting your tea from the local supermarket? Based on our experience, that answer is yes! The reason why is that it all has to do with the selection and quality of teas that Teabox is able to get and provide to their customers.
Typically, it's a 12-24 week process to get teas to consumers. The leaves needed follow this process: tea garden, auction, local exporter, overseas importer, wholesaler, retailer, and then to the consumer. With Teabox, there's no middleman involved in the process of gathering these tea leaves. The leaves are collected, sent to Teabox, and then delivered straight to you. Another things to note is that you're also getting your tea from one of the main places where tea originated from—India.
Not only does this guarantee freshness, but the teas they provide are handled with care. They control moisture, light, oxygen, and heat, as these are four things that greatly affect the taste of your tea. By keeping everything in a temperature-controlled environment, you can be sure you're getting the best.
Lastly, you'll notice that the bag that contains the tea tells you exactly how to measure out and prepare your tea for optimal drinking. They even go as far as telling you exactly how long to let your tea steep and at what temperature the water has to be. For tea lovers like me, this attention to detail is a huge plus.
Taste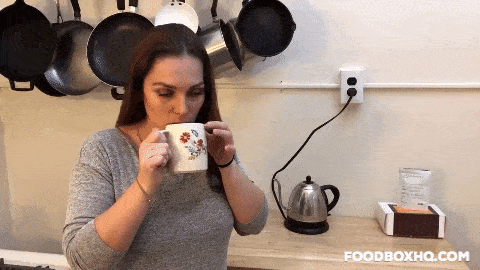 The themed box you receive each month is pretty impressive, as it includes an assortment of different flavored teas you're sure to enjoy.
We received their "Chocolate Box". And while chocolate tea might sound weird at first (it did to us) it was actually incredibly delicious and unique. Here is an overview of the teas we received:
Choco-Muscat Chai: This was a chocolate and fruity tea mix that had a touch of cinnamon in it. It's ingredients included cocoa bean, black tea, cinnamon, vanilla bean, and nutmeg.
Chocolate Marmalade: This was a darker tea that tasted "toasty", like the aroma you smell sitting by a warm fire. However, it had a hint of fruitiness. It's ingredients included black tea, pineapple, cocoa nibs, and orange peel.
Dark Chocolate Delight: This tea also tasted a bit like the aroma you'd get from sitting fireside. It's ingredients included black tea, cocoa nibs, and rose petals.
Chocolate Pudding: Surprisingly, this tea actually did taste a but like a fresh chocolate pudding. It's ingredients included black tea, cocoa, cardamom, pistachio, and vanilla.
Nutcracker: As the name implies, this tea was a chocolatey-nutty flavor. It's ingredients included black tea, toasted almond, cocoa nibs, cinnamon, and vanilla beans.
All of the teas we received in our box were caffeinated. So that's something to take into consideration when purchasing.
Pricing
If you want to try out Teabox without any kind of commitment, you might consider going for their one-month plan to start. It'll cost you $29.99 and you'll be billed each month as long as you keep your subscription going.
However, if you plan to stick with Teabox for a long period of time, you're actually going to receive a better deal by choosing the three-month or six-month plan. The three-month plan gets you 5% off and will cost $28.50 per month, while the six-month plan gets you a discount of 10% off for a cost of $27 each month.
As mentioned above, you are looking at additional fees for shipping, which will depend on your location. You can use their shipping calculator to determine that before making your purchase.
If you're not interested in their tea subscription service, you can always purchase their tea a la carte.
Final Thoughts
Overall, Teabox is a pretty fun tea subscription service. The teas we received in our box surprised us with how good they were. The only drawback is that we didn't have the ability to select which teas we wanted prior to them arriving. However, that's not a deal breaker in my eyes since the whole point of a tea of the month club is to try new flavors.