Food Box HQ Note: Know Foods has gone out of business. You can view more snack reviews here.
Are you on the hunt for a one-stop-shop for all your grain-free food needs? Look no further than Know Foods! They're the leading provider of grain-free, gluten-free, wheat-free, soy-free, dairy-free, peanut-free, and yeast-free food products. Their products include items such as bread, waffles, donuts, muffins, cereal, pasta, and much more.
All of their items are gluten-free, non-GMO, high in protein, made without trans fat, low in sodium, high in fiber, and low in net carbs (perfect for those on the keto diet). And of course, everything is free from grains, making it suitable for those with specific dietary needs.
Instead of struggling to find healthy, grain-free items at your local grocery store, you can easily get everything you need from Know Foods. Keep reading to find out what you need to know about them before placing your first order!
Types of Food They Offer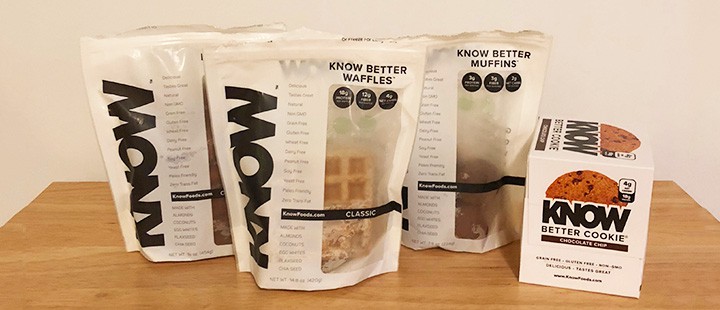 Know Foods provides their customers with an assortment of grain-free products, ensuring you'll never miss your favorites simply because you changed up your diet. They've made it possible for customers to continue eating and enjoying their favorite breads, buns, waffles, and pancakes without the grains.
They also offer wraps, which are perfect for your weekly (gluten-free) Taco Tuesday. For pasta night with the family, you'll find grain-free pasta made from chickpeas and breadsticks made with almonds, coconut flour, and seeds, among other ingredients.
Satisfying your sweet tooth is easy with their muffins, donuts, cupcakes and world famous chocolate chip cookies (my personal favorite). But that's not all they offer, because they also have crepes, rice, marshmallows, stuffing, and other amazing items.
Another great thing about Know Foods is that they work very closely with Beyond Celiac. They are the leading non-profit celiac consumer association here in North America. This means that all of their gluten-free products are produced in facilities where "the most stringent, preventative, science backed gluten-free management systems are implemented and annually verified by globally accredited third-party certification bodies." Anyone who suffers from a gluten sensitivity or allergy can feel confident that Know Foods products are safe for them.
Where to Buy Know Foods Products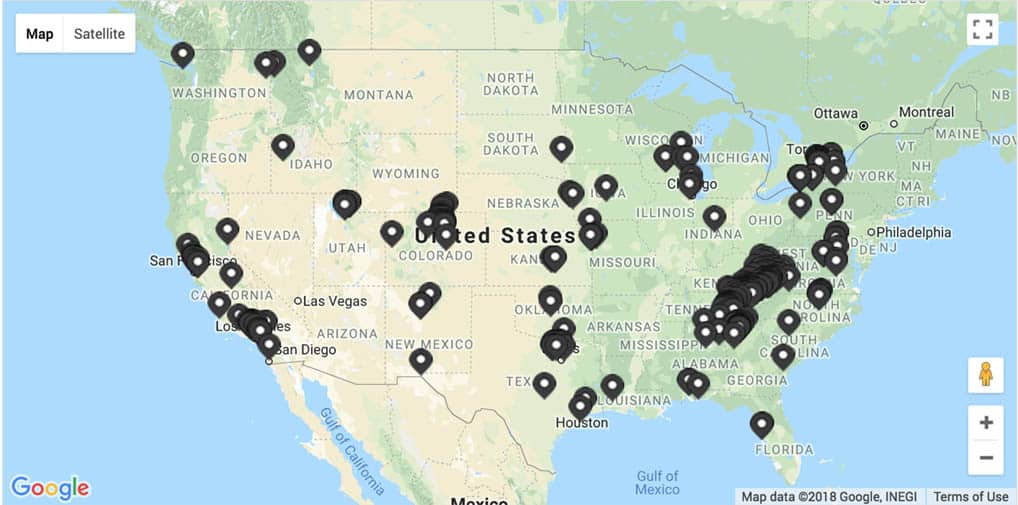 If you're sold on the idea of ordering from Know Foods, you're likely wondering what the next step is. How do you place an order or where can you find their tasty treats near you?
Your best bet is likely to order their products online, like we did. You can order directly from the Know Foods website or you can find their products on Amazon. This just makes it easier to find and order everything in one place. If you order from Amazon, the vast majority of their products are on Amazon Prime—yay for free shipping! If you order from the Know Foods website you have to hit a certain dollar amount before they give you free shipping.
If you'd rather buy Know Foods in the store, you're in luck. They do sell in some locations. Here's a list of the specific stores...
Alfalfa's
Food City
Gelson's
GNC
Good Nutrition
Metcalfe's Market
Wegman's
Whole Foods
I recommend giving your nearest store a call to check if they have Know Foods prior to going.
Shipping
When ordering through the Know Foods website, orders typically ship out pretty quickly. If you order by 12 PM Eastern on Monday, it should be shipped on Tuesday. And if you order by 12 PM Eastern on Tuesday, you can usually expect it to ship on Wednesday.
For any orders that are placed by 12 PM Eastern on Wednesday, Thursday, or Friday, sometimes the shipment can be delayed until Monday or Tuesday. And if you order on Saturday or Sunday, your purchase will be shipped on Monday or Tuesday as well. You'll want to keep this in mind in case you're in a hurry to receive your order.
They do offer plenty of shipping options, both with USPS and FedEx. For orders over $40, you will receive free USPS Priority Mail. If it's less than $40, you'll have to pay a $7.99 shipping fee. They also offer FedEx 2nd Day Air and Next Day Air for rush delivery.
Pricing
When you consider that Know Foods is making speciality items, their prices are pretty reasonable. They're right on par with the healthy products you'd typically find at your local grocery store. If you aren't used to purchasing these kinds of speciality foods, then the pricing may be a bit higher than what you're used to. You just have to keep in mind what you're buying for the value you receive.
For example, a pack of four sandwich buns is going to cost you $10. It's certainly more than traditional breads made with wheat (which are usually loaded with carbs and sugars) but this is often standard for many high-quality, gluten-free breads. They also offer a bread mix, pasta, pancake mix, and cookies for $10. Pretty much all of their products are right at the same price point. The only thing that is cheaper at this time is their bread slices, which cost $5.
It's worth mentioning that they do offer discounts for first responders, students, and military members. This discount will allow you to get 10% off your order. I love that they give back in this way.
Referral Program
Another way to save money when purchasing products from Know Foods is to utilize their referral program. When you create an account on their site, you'll find a custom referral link that you can share with friends, family, or anyone you think would love Know Foods. When they order through your link, they'll receive a 10% discount on their purchase.
Whenever someone uses your referral link to place an order, you will receive 200 points credited to your account. For every five friends that purchase with your link, you'll receive a $10 discount code on your next order. You'll also earn points for creating an account and with each order you place. The more points you earn, the more often you'll receive money-saving discounts.
Final Thoughts
Overall, Know Foods is a great place to find speciality, grain-free items online. They provide a variety of products for their customers to purchase, making it easy to stick to their specific diets. If you've been having trouble finding grain-free foods that taste great, they're worth checking out. And since they never use GMOs, gluten, grain, wheat, soy, dairy, peanuts, yeast, preservatives, added sugar, or trans fat, you can finally feel good about what you're eating.
If you watched our video review where we taste test each of their popular products, you'll see that they actually taste good too.
Have a question about Know Foods? Leave a comment below and we'll get back to you ASAP!